President Laughingstock
Julianne Malveaux | 10/3/2018, 9:38 p.m.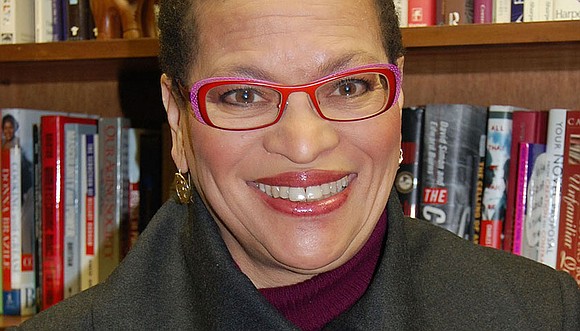 "America is governed by Americans," 45 said. "We reject the ideology of globalism, and we embrace the doctrine of patriotism. Inside everyone in this great chamber today, and everyone listening all around the globe, there is the heart of a patriot that feels the same powerful love for your nation, the same intense loyalty to your homeland." It is possible to be a patriot and also embrace globalism, especially if we are thinking of our nation's well being in the long run. In other words, the world is interlinked, and our countries are intertwined. What would we have to give up if we "went it alone"? I don't think 45 is capable of thinking this through. What if countries decided to stop doing business with us? What products would we have to give up?
At the United Nations meeting last year, 45 ridiculed North Korean President Kim Jong Un as "Little Rocket Man." Now Mr. Rocket Man is his new best friend, worthy of 45's praise. 45 heralded his June summit with Kim Jong Un as a success, but there has been little or no progress made toward denuclearization. Now he says he wants another summit with the North Korean President. No wonder the world is laughing at him. He doesn't know which way is up!
Thus, he has jeopardized our relationship with Canada, with his "renegotiation" of NAFTA. He has alienated our allies with his insistence on withdrawing from the Iran nuclear deal, even as Britain, China, France, Germany, and Russia affirm their agreement to the deal. And he has continued to coddle Russia, barely mentioning proven Russian interference in US elections.
The world is watching, and the world is laughing. The disastrous display of US jurisprudence in the Kavanaugh case illustrates the breakdown of our democracy. Further, the amusing performance that our President offered to the United Nations cemented his place as the world laughingstock and disgraced us all!
Julianne Malveaux is an author and economist. Her latest book "Are We Better Off? Race, Obama and Public Policy" is available via www.amazon.com for booking, wholesale inquiries or for more info visit www.juliannemalveaux.com
Julianne Malveaux is an author and economist. Her latest book "Are We Better Off? Race, Obama and Public Policy" is available via www.amazon.com