Beautiful Boy to open the 54th Chicago International Film Festival
10/4/2018, 6 a.m.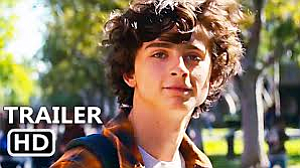 Beautiful Boy as this year's Opening Night film Felix van Groeningen's film starring Academy Award® -nominees Steve Carell, Timothée Chalamet and Amy Ryan received its world premiere this past weekend at the Toronto Film Festival where Owen Gleiberman of Variety raved "Carell and Chalamet both give excellent performances that should help to launch Beautiful Boy into the awards-buzz atmosphere."
Join the festival for Opening Night on Wednesday, October 10. A VIP After-Party with cocktails and hors d'oeuvres will follow at the beautiful St. Jane Hotel!
Tickets start at $25 with VIP tickets (including film and after-party) at $100/ticket.
Ticket and event information is available on our website
Tickets for Opening Night are on sale now
Beautiful Boy Director: Felix van Groeningen (The Broken Circle Breakdown)
Based on the best-selling pair of memoirs from father and son David and Nic Sheff,
Beautiful Boy chronicles the heartbreaking and inspiring experience of survival,
relapse, and recovery in a family coping with addiction over many years. Starring
Steve Carell and rising young star Timothe Chalamet (Call Me By Your Name),
who delivers one of the year's most stunning performances, this emotional drama
remains full of hope and humanity.
Opening Night Celebration
Wednesday, October 10
AMC River East 21 (322 E. Illinois St.
6:00pm Press Line
6:30pm Welcome and Guest Presentation
7:00pm Premiere of Beautiful Boy
Ticket Information:
Member Tickets: $25 (film only, general seating)
General Public Tickets: $30 (film only, general seating)
VIP Tickets: $100 (Includes seating in premium theater and Opening Night after party)
John and Jacolyn Bucksbaum Family Foundation
Jeanne Randall Malkin Family Foundation
Passes Now on Sale! Buy Now & Save More!
Moviegoer and Passport pass holders receive early access to redeem tickets starting
Thursday, September 20.
MOVIEGOER PASS
10 general admissions*
$110 for members
$140 for non-members
PASSPORT PASS
20 general admissions*
$205 for members
$265 for non-members
*Passes are not valid for Special and Gala Presentations, Tributes, Opening Night, Special Events, Centerpiece, or Closing Night. All programs are subject to change. Passes on sale until October 21, 2018. Passes will be emailed to purchasers for redemption.
FESTIVAL BOX OFFICE LOCATION
AMC River East 21 | 322 E. Illinois St.
Box Office opens September 18.
Buy your Pass
Full Festival Schedule Released in One Week!
September 17, 2018
54th Festival - Full schedule released
September 18-20, 2018
Members-only ticket pre-sale
September 20, 2018
Moviegoer/Passport early redemption begins
September 21, 2018
Festival tickets on sale to the general public
October 10-21, 2018
54th Chicago International Film Festival
Become a Member!
Join us as a member of Cinema/Chicago and get early access to Festival tickets!
Membership perks include:
Free Members-only screenings of 10+ highly anticipated films throughout the year
Members Pre-Sale on Festival tickets before the general public
Discounts on Festival tickets and passes, events and merchandise
Membership starts at only $55/year
So far in 2018, members have been invited to advance screenings of Disobedience
with Oscar winning director Sebastián Lelio in attendance, Boundaries with director
Shana Feste and actor Lewis MacDougall in attendance, America to Me with director
Steve James in attendance, The Leisure Seeker, Book Club and more.