Congressional candidates weigh in on gender pay gap
Women of color are at the bottom
Megann Horstead, Reporter – news@thetimesweekly.com | 10/4/2018, 6 a.m.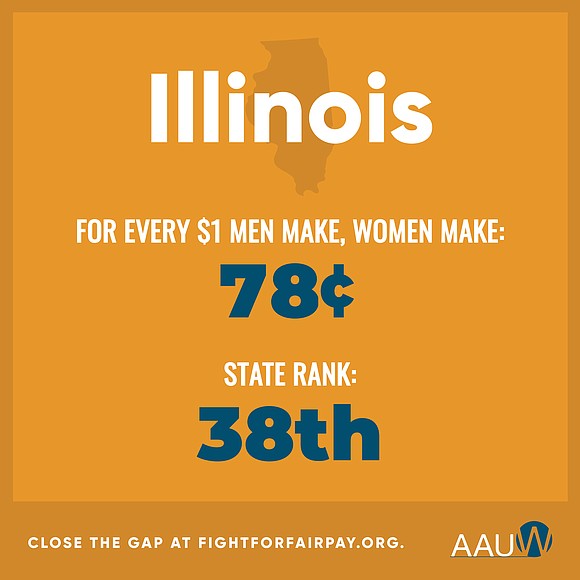 Heading into the November election, candidates for Congressional Districts, comprised of Will County communities, shared differing views on the gender pay gap and its impact to voters.
A recent analysis of U.S. Census Bureau data released by the American Association of University Women (AAUW) gives a breakdown of the State of Illinois' equal pay protections and outlines how lawmakers for Congressional Districts fare when it comes to pay equity and the effort to close the gap.
The work of the AAUW shows that in Illinois, the pay gap between men and women is $0.78 cents for every dollar, which is below the national average of $0.80 for every dollar.
"The pay laws in Illinois are actually quite strong, so that's conflicting, but there's always room for improvement," said Deborah Vagins, senior vice president of public policy and research for AAUW.
The AAUW's analysis looks at each state's equal pay laws, as well, as current federal laws and other ways to achieve equal pay.
Every September, the U.S. Census Bureau releases its data.
"We look at that each year to see the progress that is being made and what work needs to be done," Vagins said, noting the importance of the ongoing work to close the gender pay gap.
Congresswoman Robin Kelly touted her voting record, saying that she has backed federal legislation to help address pay equity.

Kelly from Matteson is vying for re-election to the 2nd Congressional District in Will County in the November election her opponent is David Merkel, a Republican candidate from Bourbonnais.
Kelly said she wants to continue to play a part in leveling the playing field for women.
"There is definitely more to be done because it's unfair," she said. "In your career, you have lost a million dollars because you didn't make the same amount of money."
Vagins said it is clear that the gender pay gap affects people in different ways.
"What we know is that for women of color, the wage gap is much worse, so factors, like discrimination—which play into the wage gap, and is one of the factors that causes it—is even worse for women of color," she said.
The AAUW has findings that show the 2nd Congressional District of Illinois and its gender wage gap currently ranks as the sixth smallest.
Merkel downplayed the idea of the gender pay gap and its impact to constituents.
"They have millionaires in every town in this county," he said. "Oprah [Winfrey's] got money; Dianne Feinstein's got money; Whoopi [Goldberg's] got money; Barbara Streisand's got money. If you work, you can have all the money you want."
The work of the AAUW shows that African American women in Illinois typically generate $0.63 for every dollar, compared to white, non-Hispanic men. That same trend holds true for Latinas in Illinois who commonly earn $0.49 for every dollar, compared to white, non-Hispanic men.
Kelly said it's unfortunate to know that when women suffer, the whole family may suffer.
Recently, Kelly hosted a program in which roughly 250 women were invited to sit in on a discussion of generational wealth.