Wine of the Week – Castello Del Poggio sparkling Moscato - $14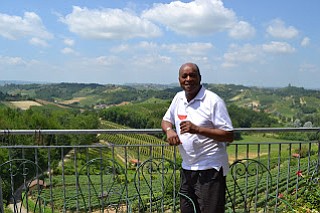 Piedmont is home to some of Italy's most sought after wines. That is precisely the home of Castello Del Poggio Sparkling Moscato ($14), part of their portfolio of refreshing, low alcohol wines that make up their Sweet Collection. The wine has just the right amount of sweetness to appeal to the tastes of a new generation of wine drinkers who like to be adventurous with the choice of foods they eat; lighter, spicier, exotic fare, that embraces the redolent flavors of Thailand, India and the Mediterranean.

Lush ripe peaches, pears and honey are the tastes that dominate, all enveloped in the aroma of delicate white flowers and a hint of perfume. All of this is carefully balanced against the backdrop of a light smokiness and minerality that leads to an effervescent crescendo. Light, persistent bubbles that snake up the glass like a strong of pearls and a pleasant light straw color with lime green flecks make this wine not only pretty to look at but delightfully teasing on the palate.
Try it with sushi (don't forget the Wasabi and Ginger), Szechwan Chicken, Hot and Sour Soup, Peking Duck, Thai Basil Shrimp or Caribbean Rock Fish. Smoked Gouda or Humboldt Fog goats milk cheese from Sonoma and Dark California Figs make this the perfect companion for a lazy Indian Summer afternoon just as the leaves begin to herald the change of season.