Channahon woman's squirrel photo wins September Forest Preserve contest
10/5/2018, 6 a.m.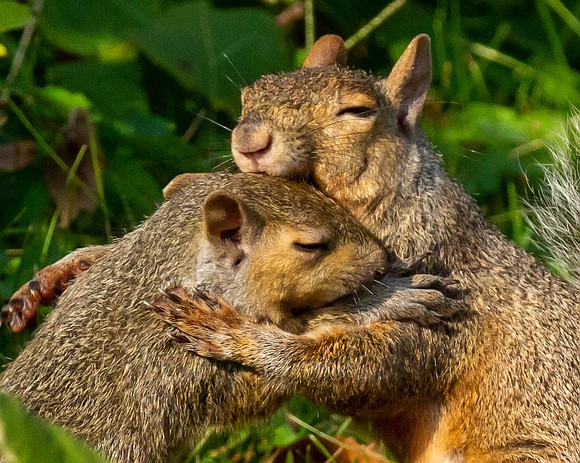 A mother and baby fox squirrel caught in an embrace won the hearts of judges as well as top honors in the September portion of the Forest Preserve District of Will County's Preserve the Moment photo contest.
Channahon resident Barbara Parisi took the heartwarming photo while visiting McKinley Woods - Kerry Sheridan Grove.
"I couldn't believe I actually got the shot," Parisi said in a telephone interview. "I was on the trail not even a minute when I saw a mother squirrel with her two babies. The babies ran down the tree they were in and were playing with each other, while the mother was tending to them. You could see the mother was really interacting with her babies, and it was just very cute to watch."
Parisi said it wasn't long before the mother embraced one of her babies, but she missed the shot. However, a short time later the two squirrels "hugged" again, and Parisi was able to capture the adorable image. An avid birder and amateur photographer, Parisi said she spends as much time as possible in the Channahon preserve. "Every time I have a chance, I'm there," she said, explaining that she is always able to find a good bird shot in this preserve. "If I could bird-watch and
take photos of nature for the rest of my life, I would."
The judges were not only taken by the element of cuteness that exudes from Parisi's submission, but also noted the composition of the photo and the squirrels' peaceful pose that was captured at just the right moment.
Honorable mentions also were awarded to:
Michael Daley of Lemont for a wolf spider in wait along the Centennial Trail in Romeoville.

Mark Hanna of Romeoville for a grebe wading in water at Lockport Prairie Nature Preserve in Lockport Township.

Nancy Havener of Naperville for sun-kissed tall sunflowers at Lake Renwick Preserve in Plainfield.

Joseph Traina of Joliet for an immature yellow-rumped warbler scratching just the right spot at McKinley Woods.
All of the September entries can be viewed on the District's Flickr page, Flickr.com/WillCoForests.
Parisi's photo will be one of eight monthly finalists competing for top honors after the contest concludes on Dec. 31. Overall contest winners will be chosen in January via public voting on the District's Facebook page, Facebook.com/WillCoForests. Visa gift cards will be awarded in the amounts of $500 for first place, $250 for second place and $150 for third place. Contest prizes are sponsored by The Nature Foundation of Will County.
Contest photos must be taken by amateur photographers over the age of 18 in a Will County forest preserve or on a District trail during the contest time period. For more information and contest rules, visit ReconnectWithNature.org.