Black Perspectives: The Hate U Give at Chicago International Film Festival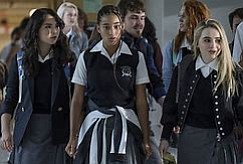 The Hate U Give is a superb social drama ripped right from today's headlines. Chicago-bred and Columbia minted Black Film Award- winning director George Tillman Jr., who created the Soul Food franchise, and directed Men of Honor and the Barber Shop trilogy vividly brings the story of Starr Carter to the screen who is torn by her efforts to reconcile "straight-out-of-Compton" existence with the all-white prep school her reformed thug father (an arresting performance by Russell Hornsby, trying desperately to create a better life for his chilldren. In spite of it, she manages to excel in school, in spite of a tenuous and relationship with her white classmates and, in particular, the contentious relationship with her frien-a-mee Haily played by Sabrina Carpenter. She's even dating the most popular guy in the school, the white Chris (A.J. Spa), to the later consternation of her parents. Her world is ultimately shattered when her childhood sweetheart Khalil, played with disarming charm by Algee Smith, is gunned down in cold blood by a white police officer. The ensuing Black Lives Matter protest seems a little staged and the sudden emergence of Starr as a spokesperson for the movement is a bit contrived, but the film otherwise hits all the right socio-political notes.
Common has a minor, but pivotal role as a good-guy cop relative, who gets a reality check from Starr, With snappy dialogue in a screenplay from Audrey Wells and sweeping, panoramic cinematography by Mihai Malaimare Jr. the film is a must-see in theaters now everywhere. From Twentieth Century Fox.