Chicago Film Festival: SOFIA
Morocco Meryem Benm'Barek, director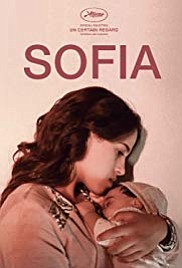 Ms. Benm'Barek opens her debut feature film, for which she also wrote the screenplay, with a penal code quote about babies born out of wedlock. Though pregnancies outside marriage are common in Morocco, single mothers face serious consequences, including prison time.


Sofia, a 20 year old who lives with her family in Casablanca, doubles over with a violent stomach while clearing the table at a family lunch. Her cousin Lena, a medical student, feels her stomach and realizes Sofia is about to give birth though Sofia is in denial about her pregnancy. Saying they are going to the pharmacy, Lena rushes her out of the house but actually takes her to the hospital. But no one at the hospital will help them —since Sofia is without a husband the risks to the hospital are catastrophic— so Lena delivers the baby. They have 24 hours to come up with a father.


Sofia names a former coworker as the father, a young man from a poor family whom she had only met once. The families meet and negotiations begin. The story has a big surprise towards the end.