MARIA BY CALLAS DOCUMENTARY TAKES A MULTI-FACETED LOOK AT A COMPLEX PERFORMANCE GENIUS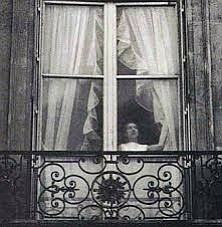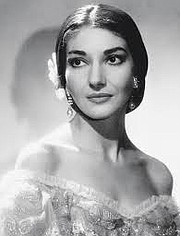 Maria by Callas, directed by Tom Volf, takes a probing look art the legendary opera diva, mostly in her own words. Composited from on camera film and tv interviews and audio interviews, archival footage of her opera performances, tabloid newspaper and magazine coverage and old newsreel footage, the film examines the complex life and personality of a true star who has been mythologized perhaps more than any other star, living or dead. A televised interview with 'TV host David Frost, is a recurring thread throughout the film, as his probative questioning is most effective in peeling back the veneer of theatrical "maquilage" to reveal the person beneath the image. "There are two people who are always with me when I perform," she said to Frost in the opening of the film. "There is Maria, the simple girl with no pretensions, and there is Callas, the great star. When I sing, they are both represented and they are equally strong within me." Words from her letters and personal diary are voiced by Met Opera star Joyce DiDonato. The film covers her early life growing up in "The Heights" (Washington Heights) in New York City. Born Maria Anna Sophie Cecilia Kalogeropoulos, of Greek heritage, the family shortened their last name to Callas in order to sound more Americanized as many immigrant families did at the time (and you always thought she was Italian!). Then there was her family's flight to Greece during the war years 1937-1945. "Those were tough years," she remembers to Frost. But it was Greece where she was admitted into the Athens Conservatoire and came under the tutelage of Madame Elvira del Hidalgo. "As a young girl, just 13 years old, I was immediately thrown into her arms, meaning that I learned the secrets, the ways of this bel canto, which of course as you well know, is not just beautiful singing. It is a very hard training; it is a sort of a strait-jacket that you're supposed to put on, whether you like it or not," Callas recalled bitterly to Frost. The film covers her triumphs as well as her failures. Her abusive marriage to Batista Meneghini, the disastrous performance in Rome in 1957 when she lost her voice due to bronchitis, caused by the strain of constant performing and her truncated comeback at the Paris Opera House more than a dozen years later. We see her on the yacht Christina with Aristotle Onassis and get a clearer picture of their nearly lifelong friendship and love. We also hear DiDonato's intoning of the heartbreaking undelivered letter she wrote to Onassis upon his impending marriage to Jacqueline Kennedy.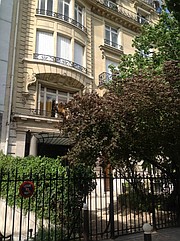 In the final years of her life, she would reconcile with Onassis and retire, first to a lavish home in Palm Beach and at the end, to her tiny apartment on Avenue Georges Mandal, where she died at the age of 53, of heart failure, still reportedly rehearsing and working on her art with the hopes of making yet another comeback. With Screenplay by director Volf and Editing by Janice Jones and the marvelous voice of La Callas in a magnificently audio mastered sound track which is a miracle of modern film engineering, this is one of the most absorbing biographical films to come around in a long time. From Sony Pictures Classics.