Troy Girls Basketball Teams Champions at Marian Catholic Tournament
10/31/2018, 10:23 p.m.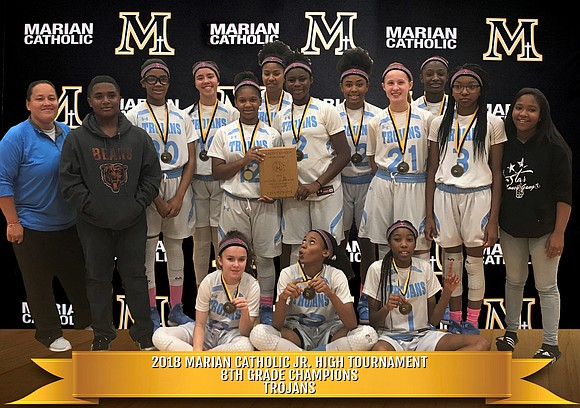 Both the Troy Middle School 7th and 8th grade Girls Basketball Teams were named champions at the recent Junior High Girls Basketball Tournament at Marian Catholic High School.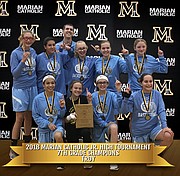 The 8th grade team, led by Coach Serena Cruz, finished the tournament by ousting St. George Elementary, 48-30.
Prior to that, they beat Lady of the Woods School, 48-4, Prairie Hills Junior High School, 41-27, and Sunday Incarnation School, 37-27.
"The girls played outstanding team ball with lock-down defense," Cruz said. "They are an awesome group to watch, and I look forward to the remainder of the year."
The 7th grade team, led by Coach Matthew Stortz, beat the St. Mary Catholic School Girls Basketball Team, 33-19, for the championship game.
Also in the tournament, the seventh grade team beat O.W. Huth Middle School, 32-6; St. Damian School, 41-24; then St. Michael School, 32-27, to advance to the championship game.
"Over the course of the weekend, "Stortz said, "we were down players due to illness, injury and schedule conflicts. That didn't stop these girls from stepping up to the challenge. Not only did they rattle off four victories to win the tournament, we also received a compliment from the Marian Catholic coach stating that Troy Middle School runs a great girls basketball program and that each of the ladies represented themselves and their school in a very respectful manner."