S'mores Crispy Bars
9/7/2018, noon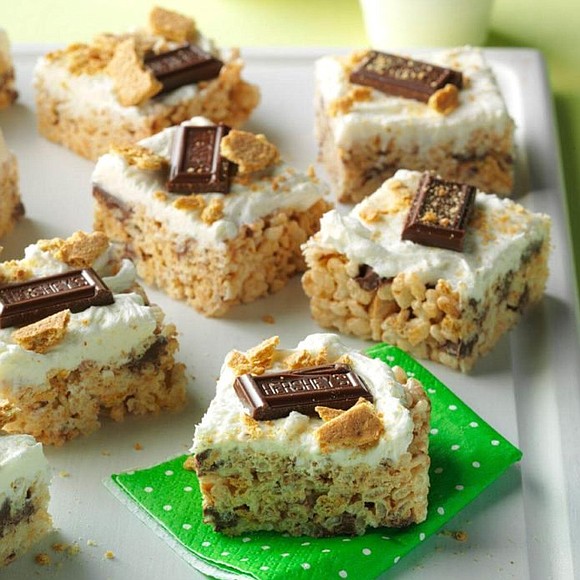 Servings: 2 dozen / Total Time: 15 min.
Ingredients
• 1/4 cup butter, cubed
• 1 package (10-1/2 ounces) miniature marshmallows
• 6 cups Rice Krispies
• 1-1/2 cups crushed graham crackers
• 1 cup milk chocolate chips
• FROSTING:
• 3/4 cup butter, softened
• 1 cup confectioners' sugar
• 1 jar (7 ounces) marshmallow creme
• TOPPING:
• 1/4 cup crushed graham crackers
• 2 milk chocolate candy bars (1.55 ounces each)
Directions
• In a 6-qt. stockpot, melt butter over medium heat. Add marshmallows; cook and stir until melted. Remove from heat. Stir in cereal and crushed crackers. Fold in chocolate chips. Press into a greased 13x9-in. baking pan. Cool to room temperature.
• For frosting, in a small bowl, beat butter and confectioners' sugar until smooth. Beat in marshmallow creme on low speed just until blended. Spread over bars. Sprinkle crushed crackers over frosting. Cut into bars. Break each candy bar into 12 pieces; place a piece on each bar.