People's Climate Movement Rally call for better local communities
Megann Horstead, Reporter –news@thetimesweekly.com | 9/11/2018, 3:53 p.m.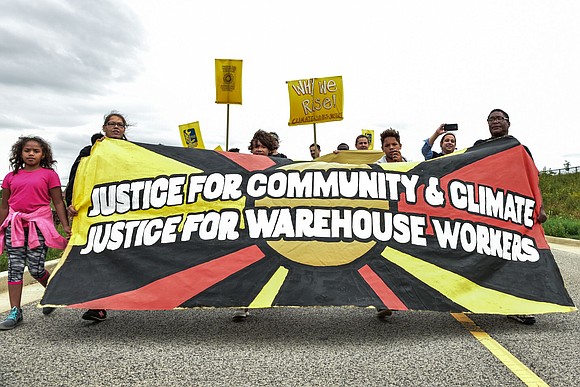 There was close to 500 Illinois environmental, Labor and social justice activists who rallied and marched Saturday afternoon in Elwood for Peoples Climate Movement (PCM) global day of action for "climate jobs and justice."
The rally, as staged, was part of a national movement to bring greater awareness to climate change.
Demonstrators took to the streets of Elwood, right off O'Connor Park at Dear Run Road, across the street from a Walmart distribution center and marched to the nearby BNSF-Chicago Logistics Park, where demonstrators highlighted the facility's impact on the environment, jobs, public health and the surrounding community's quality of life.

Members of PCM demanded that our leaders and elected officials commit to a 100 percent clean and renewable future; pollution-free communities and workplaces; protection of workers; and prioritizing just relief and recovery efforts for climate crises and natural disasters.
"Will County is home to the largest shipping container port in the U.S. and tens of thousands of diesel pollution-emitting vehicles travel through our communities every day," said Ann Baskerville, Joliet-area resident and Sierra Club Illinois member. "We are a global hub and should lead the way to a 100 percent electric transportation system future powered by clean, renewable energy. Global giants that operate in our communities can afford and must do the right thing for workers and the planet by paying a living wage and leading way to a 100 percent clean energy future.
Elwood has more than 300 warehouses, including many operated by major retailers and big polluters like Amazon and Walmart both of which have received massive tax breaks from our local governments. Most warehouse jobs in the area are non-union, pay poverty wages and are filled by temp workers the majority of whom are people of color and immigrants," Baskerville continued. "There's no reason the corporations at the Intermodal center can't pay a decent wage and offer benefits," said Carl Rosen, president of the United Electrical, Radio & Machine Workers of America.
"We all know that we are working on one of the most important issues there is," said Susan Hurley, executive director of Chicago Jobs with Justice. "We've got to start to building together a future that we can thrive in, both as workers and as people living in clean, healthy communities and in vibrant, health economies."
Elwood resident Amy Walsh said she wants to see new and better change in the community.
Walsh is one of the leaders of Just Say No to Northpoint, a group set up to advocate against a proposed warehouse development planned for Elwood. She said the village has changed a lot over the years and not for the better. "Our starry nights have been replaced by the glow of the railroads, our farm fields are being plowed over for concrete warehouses, our quiet, country back roads are paved and striped to accommodate higher volumes of traffic," she said.
Among other groups represented at the demonstration were the Will County Progressives, Sierra Club of Illinois and People for Community Recovery.