Harrah's Casino celebrates 25th
9/12/2018, 9:28 p.m.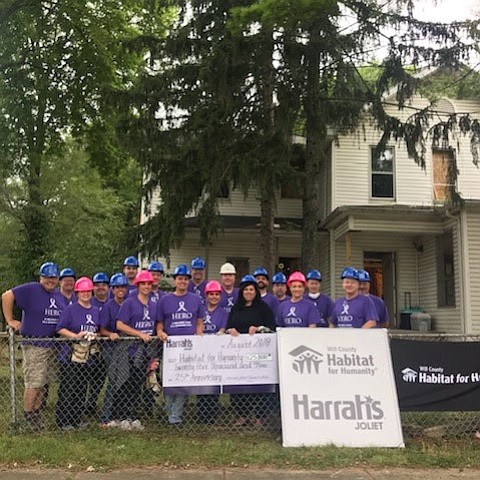 Harrah's Casino, Joliet and Will County Habitat for Humanity are celebrating together. Harrah's in Joliet is celebrated its 25th Anniversary, while Will County Habitat for Humanity is celebrating its 30th. The celebration took place August 24th at 221 Pleasant in Joliet. The Harrah's team came out to start the demolition of one of Habitat's 100-year-old homes. This home will be demoed, rehabbed and provided to a family through the Habitat Homeownership Program.
In celebration of their 25th Anniversary, Harrah's decided to make a community impact by choosing to support a local non-profit agency. After going through the grant process, Harrah's chose Will County Habitat for Humanity due to their volunteer experience and similar philanthropic mission.
Choosing to partner with Habitat:
• Creates a tangible experience for the Harrah's team members. It allows them to be a part of the construction process; they see the difference they are making.
• Their support changes on family's world while providing strength, stability and self-reliance.
• Homeownership contributes to the overall economy to fund education, road and highway construction, public servants and other services that benefit the community-at-large. Harrah's investment in Habitat's home on 221 Pleasant Street will continue to support the community for years to come through the homeowner's annual tax payments and economic support. Their donation will continue to give to this community for many years to come.
Will County Habitat for Humanity gave Harrah's an anniversary gift as well: a gift of true appreciation for what they offer and do for the Joliet community. Without Harrah's in this community, Will County would be without:
• Over 750 employee positions in Joliet
• On-going daily entertainment in their 1,000 casino slots, live poker, and table games
• Support for numerous non-profit agencies annually
• 200 hotel rooms to accommodate travelers
• Restaurant choices in the "The Reserve," "Flavors the Buffet" and "Cross Street Grill".

• A banquet and meeting facility
So for that, Will County Habitat for Humanity encourages the Joliet community to join us in congratulating Harrah's on their 25th Anniversary and to thank Harrah's Casino for their commitment to the Joliet community.