Wine of the Week: Villa Sandi ll Fresco Proscecco - $15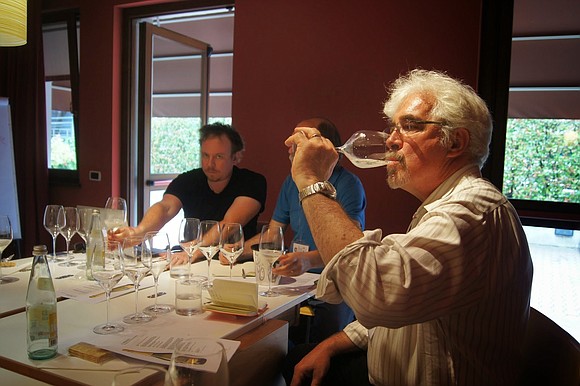 TREVISO, ITALY--Prosecco, once considered the stepchild of Champagne, has truly come into its own. It is the sparkling beverage of choice among millennials and is now the widest selling sparkling wine in the world. This golden gift from northeastern Italy, is fueled by the shifting tastes of wine lovers and gastronomes alike. Spicier, lighter international cuisines with lighter staples, such as seafood, various rices and pastas and an ever-widening array of produce and charcuterie has increased demand for the light, refreshing taste of Prosecco. Who would have thought that kale would become as common on the plate as iceberg lettuce once was, or that dishes such as sautéed squid linguine with black ink sauce would become as ordinary as Fettuccine Alfredo.
Above the barrage of labels sits an unparalleled beauty of an Italian sparkling wine, Villa Sandi Il Fresco Prosecco. Priced at under $20, it is an exquisite example of what the makers of a Prosecco DOC can achieve with the firm backing of tradition and a keen eye to the future. Treviso in northeastern Italy, is home to Prosecco. Made from the native Glera grape. it is the pride of the locale, which is often called "Little Venice" with its many charming footbridges and canals. The natural beauty of the region is breathtaking, with sacred grottos, winding trails and majestic hills rolling with lush rows of Glera vineyards.
The wine caves of Villa Sandi and the castle at Marca Trevigiana, date back more than a hundred years. Portions of the wine caves were used to hide Allied Troops during World War I. A collection of military motorcycles are among the remnants of this historic time. Owner Giancarlo Moretti Polegato has amassed an impressive collection of military aircraft and artillery on the property that, interspersed with the statuary and gardens, reflects the rich history and tradition of Villa Sandi.
Il Fresco Prosecco is everything the name implies. A fresh, fruit-forward taste of bright citrus fruits; lemons, ripe melon and hints of Mandarin orange and a touch of white flowers, makes this a most appealing accompaniment to Shrimp Scampi or Baked Turbo, two local favorites. One of my favorite dishes is freshly cut homemade Fettuccine served with a sauce made from fresh, pink large shrimp, called Scampi or Prawns. Gambero Rosso (Red Shrimp) is the local name for this seasonal delicacy). Sautéed ever so lightly with fresh, unsalted creamery butter, chopped fresh garlic, a sprinkle of fresh tarragon, flat leaf parsley or oregano and a splash of Villa Sandi Il Fresco Prosecco, and you have a quick-to-prepare lunch that goes perfectly with this lovely sparkling wine. Remember to drink responsibly.
Buon Appetito!