Goodman Theatre: We're Only Alive for a short Amount of Time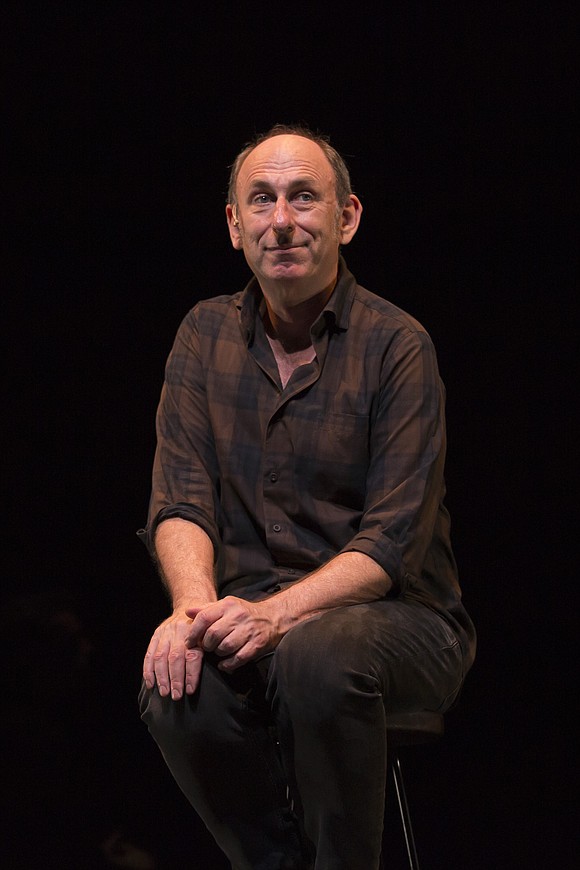 The World Premiere of Obie Award winning dramatist David Cale's We're Only Alive for A Short Amount of Time is an exuberant celebration of life using an experience-based stream-of-consciousness monologue and orchestration from on on-stage chamber ensemble that recreates a psychological journey from a troubled childhood, in the outskirts of London, fraught with obstacles, to a mature life of creative energy and self-worth.
Recounting a life that began with a hardscrabble existence amidst a dysfunctional family, in which he gives voice to all of the players, Cale seamlessly weaves together personal narrative with song that is more like a vocalese extension of the monologue than traditionally structured songs.
The music, composed by Cale and Matthew Dean Marsh and arranged by Marsh features a quintet of trumpet (Jered Montgomery), clarinet (Anna Najoom), harp (Michelle Campbell, cello (Desiree Miller) viola (David Belden) and Marsh at the piano. The quintet is visible onstage throughout the performance and is interwoven into the continuous 90 minute performance, at times serving as background score, an echoing Greek chorus, and occasional solo voice, emphasizing key dramatic moments in the narrative.
Set design by Kevin Depinet and lighting by Jennifer Tipton makes creative use of the most minimal elements, elevated mobiles and suspended lighting, to great dramatic effect. Mikhail Fiksel's skillful use of sound, adds to the overall impact of this superb staging. Production Stage Manager Brian J. Fahey and Direction by Goodman Artistic Director Robert Falls are especially noteworthy for realizing one of the most captivating and triumphant productions of Goodman's recent history. David Cale's musical and theatrical journey of memory is almost too texturally complex to reduce to the compact space provided within the paragraphs of this review. It's a production that has to be personally experienced. Everyone who sees it will walk away with their own priceless experience. ent@thetimesweekly.com