2020 Kia Telluride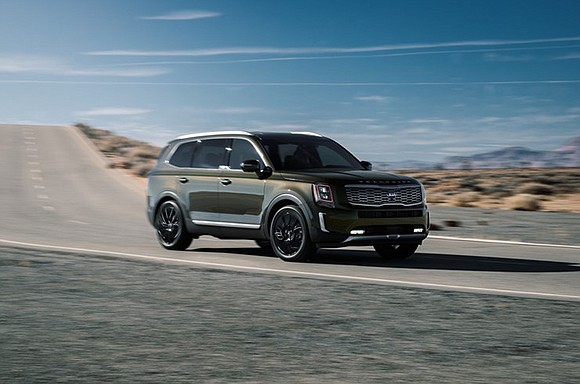 The 2020 Telluride had an independent front suspension with MacPherson struts, coil springs and stabilizer bar. In the rear, it had an independent self-leveling multi-link suspension with stabilizer bar. The ride height was automatically calibrated depending on load.
My point is the Telluride was rock solid on the road. There wasn't any body roll that I remember, the nose didn't rise up under hard acceleration nor did it dip during hard braking. There was a lot of that as we came up on curves sooner than expected.
Its cabin was wide. There was no center stack. Kia was one of the earliest automakers to emphasize horizontal interior layouts. And it really looked good in the Telluride. Plush leather seats were comfortable and the wood and metal trim which looked great and had some grainy texture wasn't wood or metal. It was a proprietary process that really worked.
The new Telluride comes in four trim lines: LX, S, EX and SX and they all can be equipped with front-wheel-drive or all-wheel-drive. Its chassis was comprised of 59.4 percent high strength steel and that no doubt was one of the reasons for its rock solid road performance.
There was a choice of four drive modes: smart, eco, sport and comfort which modified the settings for the powertrain, drivetrain and steering. In addition to the four regular drive modes in FWD, Kia said the AWD model owners can opt for snow and AWD lock too. Drive on demand will distribute torque between front and rear wheels depending on driving conditions.
During normal driving in eco and comfort modes the system delivers from 20 to 35 percent of the torque to the rear wheels. In snow, smart and sport the system delivers power evenly to all four wheels. Oh, the Telluride can tow up to 5,000 lbs too.
Got to report that the navigation system in the first Telluride we tested did not work. These were early production models, thus, they were ready for sale. We swapped with an internal who got the system to work by rebooting it. I don't know what that took but all I can say is that it is not unusual for a computer to need rebooting but it's not good either. The competition is way too good for even minor glitches; that's Kia's challenge with the launch of the Telluride which is currently on sale; don't get tripped up by the small stuff.
The automaker has stocked the Telluride with a bunch of creature comforts and driver as well as safety assists.
Blind spot collision avoidance assist will track lane changes and if it detects a vehicle in the Telluride's blind spot will apply brakes to the front wheel on the opposite side.
Rear cross traffic collision avoidance will also apply brakes to avoid a collision, lane following assist will keep the Telluride in the center of the lane and safe exit assist, if the system detects an object approaching from the rear, will override attempts to deactivate electronic child safety lock until the detected object has passed.