Slammers 2019 tickets on sale
4/8/2019, 10:07 p.m.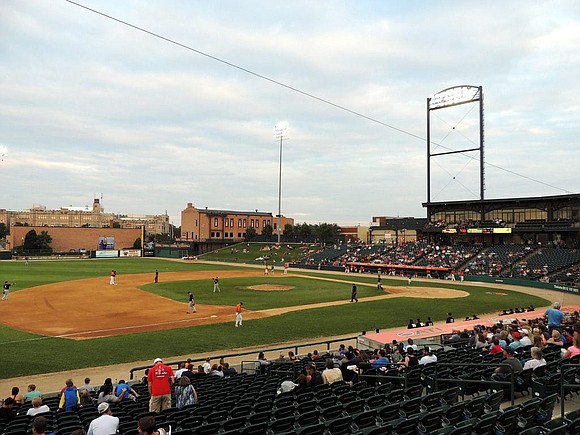 Joliet - The Champion Slammers are BACK! An action-packed schedule has everything - from a championship ceremony, to The Sarge, Weiner Wednesdays to Edzo, a Domer named Zorich, a brand-new Kid Zone, and MUCH MUCH MORE! Opening Day is just 31 days away! Fans can now purchase tickets for their favorite theme nights over the phone at (815) 722-2287 or at jolietslammers.com/tickets
Opening day at Joliet Route 66 Stadium is set for Thursday, May 9. It will be a celebration of the 2018 Frontier League Championship and will include a championship ring ceremony for the team before the game. The first 1000 fans will receive a championship photo provided by Brian Mejdrich your local health insurance professional with United Insurance Services representing Blue Cross and Blue Shield of IL.
Returning weekday promotions include $2 Tuesdays ($2 Reserved tickets), presented by Illinicare Health, Thirsty Thursdays, ($2 Bud, Bud Light, $2 beverages from the Dr. Pepper/Snapple Group, and $4 Jim Beam and Ole Smoky drinks) presented by Bud Light, and Fireworks Fridays. The Slammers will introduce Weiner Wednesday, Signature Saturday, and a revamped Family Sunday. Weiner Wednesday will feature $1 hot dogs on May 29, June 5, June 12, and August 14. Signature Saturdays will include an appearance by celebrities on select nights. Celebrities include Chris Zorich on May 18 for Notre Dame Night, Gary Matthews on June 15, and Eddie Olczyk on August 17 for Cancer Awareness Night.

Pricing and VIP packages will be announced at a later date. Family Sunday returns in 2019 with more activities for the kids including a FREE bounce house provided by Channahon General Rental, FREE face painting provided by Lollipop Face Painting, AND a BRAND-NEW playground system from Rainbow Play Systems! For a membership of just $25, Kid Club Elite members get a Slammers hat, free entry to select games, and 30-minute early entrance before EVERY game to use the playground. Post game, full team autographs will also return to Sundays..
The month of May will celebrate Accountants and CPAs on May 14 and Bus Drivers on May 28 in conjunction with $2 Tuesday. The month also features two educational days beginning at 10 a.m. on Wednesday, May 15 and Thursday, May 16. Friday, May 17 will be the first fireworks show of the year for Wild Wild West Night. Notre Dame Night on May 18 will feature special ticket options for Notre Dame alumni.
Rolling into June, the Slammers will hold appreciation nights for teachers (June 4), government employees (June 11), and medical professionals (June 25). June also brings back fan favorites such as Princess Night on Friday, June 14 and Star Wars Night on Saturday, June 15. Princess Night includes princess characters provided by Magic, Music and More and Star Wars Night will feature costume characters throughout the game. Both games will be followed by a themed fireworks show. The Slammers will play a 1:05 p.m. game on Father's Day, Sunday, June 16. Fans will have the chance to play catch on field following the game. New in 2019 is Animation Night with a Pixar themed fireworks show. Fans are encouraged to dress up as their favorite animated cowboy, spaceman, or other friends from Radiator Springs, Monstropolis, and more! The Slammers first pet day, where fans can bring in their pets on a leash or in a carrier, is June 23.
The Slammers kick-off July with Construction Worker Appreciation Night on the 2nd, and then roll into 3 nights of fireworks July 3-5. Patriotic fireworks are planned for both Wednesday, July 3rd, and Thursday July 4th. July 5th fireworks will be movie themed for Night at the Movies. Fans are encouraged to come dressed as their favorite movie character. The Slammers first military night will be held on Saturday, July 6. Tickets are free to active military and veterans.
Superhero Night is planned for Friday, July 19. In addition to superhero characters at the game, the night will honor real life superheroes, including Military, Police, Fire, and EMS. The night will begin with a pre-game charity softball game between the Joliet Police Department and Joliet Fire Department. The night will also feature post-game fireworks. The second Princess Night of the season will be held on Saturday, July 20 with post-game fireworks, followed by a second Pet Day on July 23.
Fans can "Catch Them All" on August 3 at Pokemon Go Night and scouts can sleep over after the game with the purchase of a special scouts package. August 15 will be a celebration of the men and women who protect our cities, counties, state, and more during Stand Up for Blue Night. Wizard Night returns on Friday, August 16 with a Harry Potter themed fireworks show and stadium scavenger hunt. The third and final Pet Day will be on August 18. The Slammers final regular season home stand features Halloween Night on Friday, August 30, Military Night on Saturday, August 31, and Fan Appreciation Night on Sunday, September 2.
The full promotional schedule can be found at www.jolietslammers.com Visit facebook.com/jolietslammers to learn more details for each night as they are released.
Group tickets, ticket plans, and individual game tickets are on sale now. For more information, visit jolietslammers.com or call the Box Office at (815) 722-2287.
The Joliet Slammers play at Joliet Route 66 Stadium in downtown Joliet, Illinois, and are members of the professional, independent Frontier League.