Baked Tilapia Fillets with Mustard-Pecan Crust
4/9/2019, noon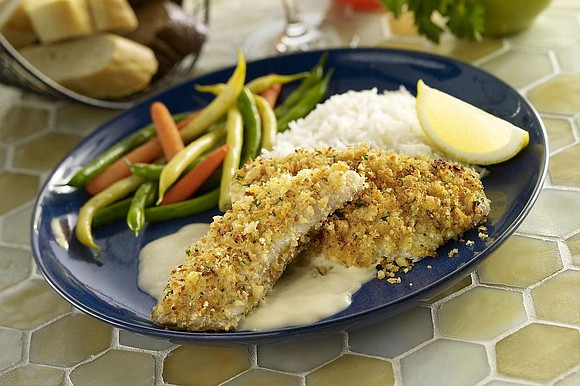 Servings: 4 / Total Time: 20 mins
Ingredients:
• 1/2 cup mayonnaise
• 1/4 cup Dijon mustard
• 1 pound tilapia fillets (defrost in the refrigerator if frozen)
• 1 ounce finely chopped pecans (1/4 cup)
Directions:
Lightly butter a large, shallow baking pan, such as a jelly roll pan.

In a small bowl, combine mayonnaise and mustard.

Using paper towels, pat fish lightly to dry.

Arrange fish fillets in prepared baking dish.

Spread mayonnaise mixture over each fillet.

Sprinkle each fillet with chopped pecans; press down gently.

Bake in a preheated 350 F oven for 12 to 15 minutes, until fish flakes easily with a fork.

Use 2 to 3 fillets per person, or 4 to 6 ounces.

Serve with broccoli and tomato slices.