Troy Heritage Trail holds, "Battle of the Books"
4/10/2019, 3:24 p.m.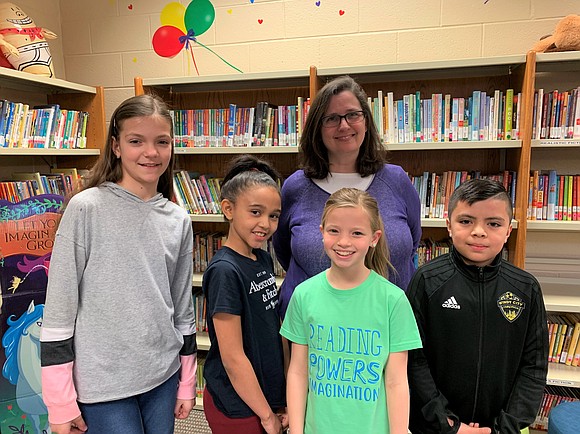 The winning team in Troy Heritage Trail Elementary School's "Battle of the Books" was the "Dragon Readers," composed of 4th graders Jaden Alipio, Nevaeh Bauer, Jennifer Newby and Colbie Siksta in teacher Kristine Linneweh's class.
The team won by answering every book-related question correctly that was put to it by organizer Learning Resource Center Associate Gina Rolando. For their prize, each member of the Dragon Readers received a Kindle Fire 7 tablet.
The contest is held each year to bring some fun competition to the reading program at the K-4 Troy Community School District 30-C school.
Rolando said every year she chooses six books from the National Battle of the Books website for fourth graders to read. Each class then holds individual competitions where students answer questions about the books. The winning team in each classroom advances. She invites all of the school's third and fourth grade students to watch the competition.
Also advancing to the "Epic Final Battle" were the reading teams, "Unicorn Friends" in teacher Dawn Prack's class; "Rambunctious Readers" in Toni Focosi's class; and, "Icy Owls" in Kaitlin Enright's class.
"Battle of the Books is a great experience for so many reasons," Rolando said. "Not only does it motivate kids to read longer chapter books, it also encourages them to share their reading experiences with parents, friends and teachers. Watching the teamwork and camaraderie that develops is truly exciting."