Tuna Salad Stuffed Jumbo Shells
4/12/2019, noon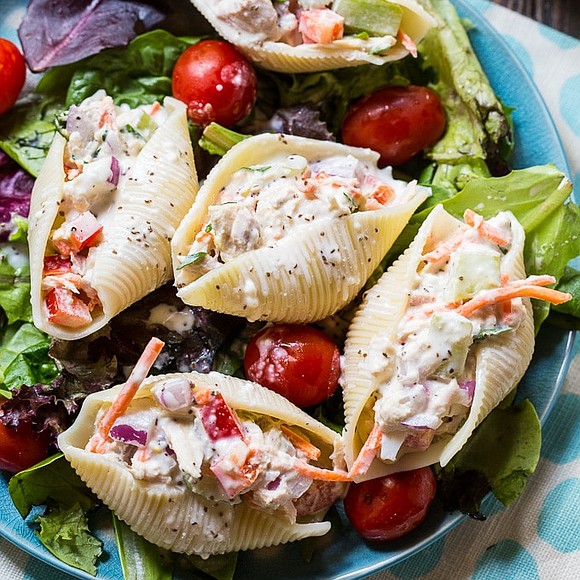 Servings: 4 / Total Time: 20 mins
Ingredients
• 12 jumbo pasta shells, cooked according to package directions
• 1/2 cup mayonnaise
• 1 tablespoon sugar
• 1/4 teaspoon black pepper
• 1 (12-ounce) can tuna, drained
• 1/2 cup diced red onion
• 1/2 cup shredded carrots
• 1/2 cup diced celery
• 1/2 cup diced red bell pepper
• 1 hard-boiled egg, chopped
• 1 tablespoon finely chopped parsley
Creamy Dressing
• 1/4 cup sour cream
• 1/4 cup sugar
• 1/4 cup apple cider vinegar
• 2 tablespoons mayonnaise
• 1 teaspoon celery seed
• 1 teaspoon onion powder
Directions
In a medium bowl, whisk together mayonnaise, 1 tablespoon sugar, and black pepper.

Add remaining tuna salad ingredients and stir to mix well. Cover and refrigerate until needed.

In a small bowl mix together all the dressing ingredients.

To assemble, fill each shell with tuna salad and drizzle with dressing. Serve over a bed of lettuce if desired.