Behind the Prison Walls
4/15/2019, 9:42 p.m.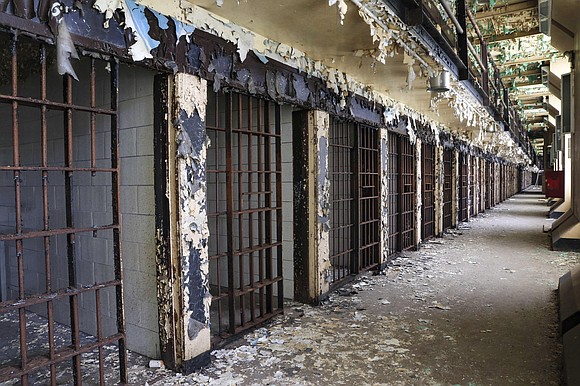 Gallery Seven, 200 West 8th Street, Lockport, presents a new exhibit by Barbara Eberhard- Behind the Prison Walls. Eberhard's images are on exhibit during the month of May with a reception that is free and open to the public on Saturday, May 4th, 6-8 p.m.
Behind the Prison Walls is a look at the Old Joliet Prison located on Collins Street. The prison was built in 1858 and was open until 2002. Eberhard has captured the grandeur of the iconic gothic architecture of the warden's house along with details of the everyday life of a prisoner.
Eberhard's usual medium is alternative printing processes but found that for this exhibit having her images printed on metal enhanced the grittiness of the subject.
Barbara Eberhard taught photography at the University of St. Francis for over twenty-five years. She is a member of Gallery Seven and the founder of artitude, an exhibiting group of artists from the Joliet/Lockport area. Artitude currently is on exhibit at the Beverly Arts Center in Chicago. Also, with Lisa Colleen, she began (art) INSPIRED! live lit, a music/storytelling venue held at the Public Landing Restaurant in Lockport the first Tuesday of every month. The event is Free! This summer she will be busy curating the juried fine art exhibit Art of Illinois for Gallery Seven. Look for information about Art of Illinois in the near future.
Make sure to stop by to view Barbara's work on the third floor of the historic Gaylord Building during the month of May. Mark your calendars for May 4th, 6p.m. to attend the reception.
Gallery Seven, established in 2007, is operated by a group of local artists, located at 200 West 8th Street, in the historic Gaylord Building, Lockport. This free gallery is open to the public Wednesday to Saturday, Noon-5p.m. and Sunday Noon-3 p.m. All exhibited work at Gallery Seven is for sale.
815.483.4310 gallery7@ymail.com www.galleryseven.net