Asparagus Casserole
4/16/2019, noon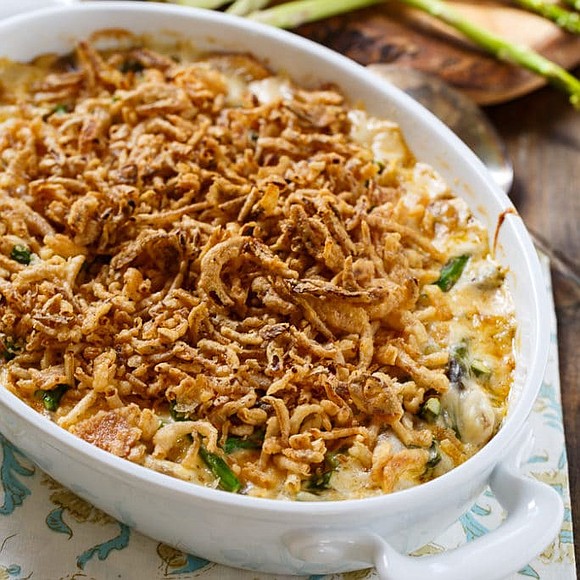 Servings: 8 / Total Time: 50 mins
Ingredients
• 4 tablespoons (1/2 stick) butter
• 2 1/2 pounds asparagus, trimmed and cut into 1-inch pieces
• 1 (8-ounce) package white mushrooms, sliced
• 1/2 medium sweet onion, chopped
• 1/4 cup all-purpose flour
• 1 1/4 cup milk
• 1/2 cup mayonnaise
• 1/2 cup sour cream
• 1/2 cup shredded cheddar cheese
• 1/2 cup shredded swiss cheese
• 1/2 teaspoon salt
• 1/2 teaspoon lemon pepper
• 1/4 teaspoon paprika
• 1 (6-ounce) can french-fried onions.
Directions:
Grease a casserole dish and preheat oven to 350 degrees.

Melt butter in a large pan over medium heat. Add asparagus, mushrooms, and onions and cook, stirring occasionally, for about 6 minutes.

Sprinkle flour over vegetables and cook, stirring continuously, for 1 to 2 minutes.

Gradually stir in milk. Cook until thickened.

Reduce heat to low and mix in mayonnaise, sour cream, both cheeses, salt, lemon pepper, and paprika. Remove from heat.

Crush about 1/3 of the can of french-fried onions and mix them into the asparagus mixture.

Transfer mixture to prepared casserole dish.

Sprinkle remaining french-fried onions on top.

Place in oven and bake for 30 minutes.