Brown-Sugar-Glazed Baked Ham
4/17/2019, noon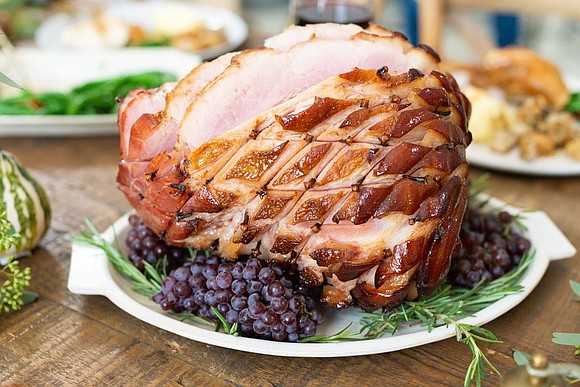 Servings / Total Time: 2: 15 mins
Ingredients:
• 6-pound fully cooked* ham (half ham)
• Optional: whole cloves
• 1/2 cup maple syrup
• 1/2 cup brown sugar
• 1/2 cup apple juice
• 1 tablespoon Dijon mustard (heaping)
• Optional: dash ground cinnamon, ginger, or allspice
Disclaimer: Look for a ham labeled "fully cooked." USDA inspected fully cooked hams can be sliced and eaten as is, but are normally baked to 140 F for best texture and flavor. *
DIRECTIONS:
Line a roasting pan with foil and place a rack on it. Heat the oven to 325 F.

Place the ham, fat side up, on a rack in the prepared roasting pan. Score the fat all over in a diamond pattern, cutting to a depth of about 3/4 of an inch. If desired, stud with cloves. Insert a clove into each intersection, or "X" of the diamond pattern.

Bake the ham in the preheated oven for about 18 to 20 minutes per pound, or until a meat thermometer or instant-read thermometer registers at least 140 F, the optimal temperature for a fully cooked ham.

In a medium saucepan combine the maple syrup, brown sugar, apple juice, mustard, and ground spice (if using). Place the saucepan over medium-high heat and bring the mixture to a boil. Boil the mixture for about 2 minutes (be careful not to let it boil over).

About 20 minutes before the ham is done, spoon about half of the glaze over top of ham; return it to the oven. About 10 minutes before the ham is ready, brush the remaining glaze mixture over it.

Cover the ham loosely with foil and let it stand for 10 to 15 minutes.

Carve, serve, and enjoy!