Criminal defendants get second chance
4/24/2019, 8:49 p.m.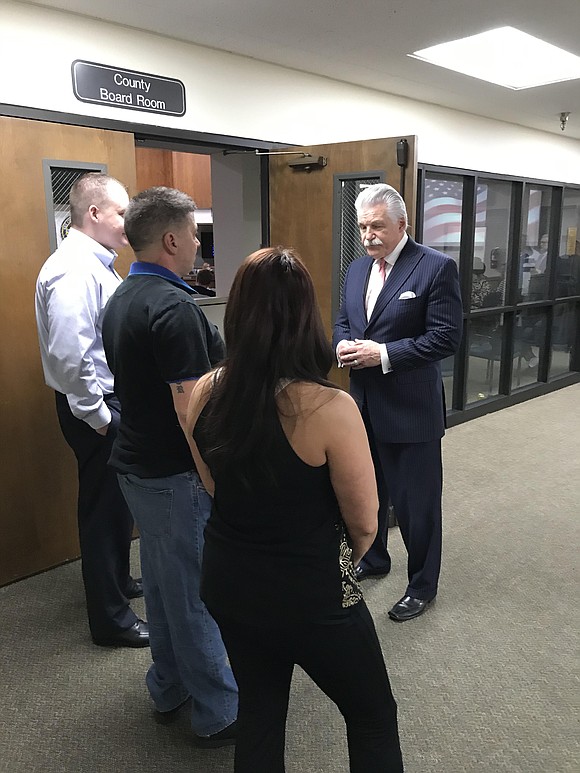 Joliet - Six participants graduated recently from the Will County Mental Health Court in a public ceremony at the Will County Office Building. The individuals are from the communities of Plainfield, Homer Glen, Romeoville, and Joliet. The program was established in 2010 by Will County State's Attorney James Glasgow and former Chief Judge Gerald Kinney to provide judicial monitoring and treatment services to qualifying criminal defendants. Circuit Judge Fred Harvey and Problem-Solving Court Coordinator Julie McCabe-Sterr of the State's Attorney's Office also participated in the ceremony. The event marked the 21st ceremony for graduates of the Mental Health Court. Including recent participants, 69 individuals have graduated from the program.
"Today marks a significant step in the lives of each of these individuals, who have worked extremely hard to complete this program," Glasgow said. "Mental Health Court is a win-win program that protects the public and improves the quality of life for participants. We all benefit when these graduates go on to find employment and contribute in a positive manner to our communities."
Each potential defendant is carefully screened before being admitted to Mental Health Court. Anyone who has been convicted of or charged with first-degree murder, second-degree murder, a sex offense, armed robbery, arson, kidnapping, stalking or any offense involving the discharge of a firearm is barred from participation. Defendants charged with other crimes may not be allowed to participate depending upon the unique circumstances of their individual cases. To be eligible for Mental Health Court, candidates must be diagnosed as having a mental disorder or a co-occurring disorder, the latter of which is a mental illness combined with an addiction.
In addition to the Mental Health Court, State's Attorney Glasgow initiated the establishment of the County's other three problem-solving courts: Adult Redeploy Illinois Court, Drug Court, and the Veterans & Service Members Court.