Joliet West High School hosts local filmmaker Jason Pittman
4/29/2019, 9:02 p.m.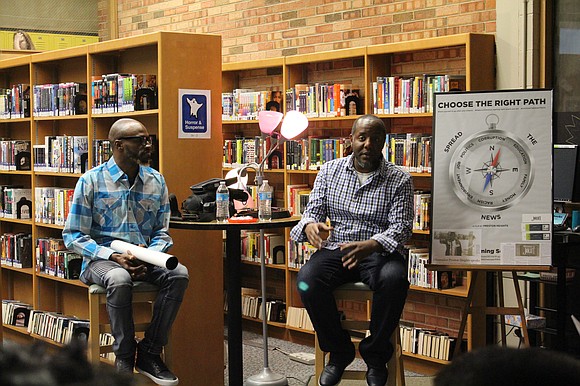 Joliet West High School hosted local filmmaker Jason Pittman and Pastor Jamar Cook as part of the curriculum module "Using Documentary Film as an Introduction to Rhetoric". Students applied their knowledge of rhetoric to analyze segments of Pittman's documentary, "Choose the Right Path". Students then had the opportunity to ask Pittman questions about his career and the process of filmmaking.
Jason Pittman, who also goes by the pseudonym Preston Heights, is a Joliet Central alumnus, producer, writer, and self-proclaimed educator. He attended Columbia College from 1999 to 2002 where he studied film. In his film "Choose the Right Path", Pittman interviews residents and leaders, including the Mayor of Joliet and the Police Chief, about local social issues.
From this film, the "Choose the Right Path" movement was born, which promotes making healthy choices and pursuing one's dreams instead of crime and violence. Pastor Jamar Cook partners with Pittman to spread this message to the local community through film screenings, discussions, and community gatherings. Pittman and Cook handed out #ChoosetheRightPath bracelets to students to start the movement on campus, and the movement may continue as Pittman plans to host a full screening at Joliet West High School in the future.
Joliet West teacher Jenn Galloy said, "I heard about the film from an article in local media regarding a local screening they hosted last December and thought it would be a great opportunity for our students who are learning about documentaries and how to properly analyze them, to hear from a local filmmaker. After messaging him on Twitter, he jumped at the chance to work with our students. This experience, which was just going to be a smaller discussion in my own classroom took off and all English 3 teachers attended because it was directly aligned with our unit goals."