2020 Hyundai Palisade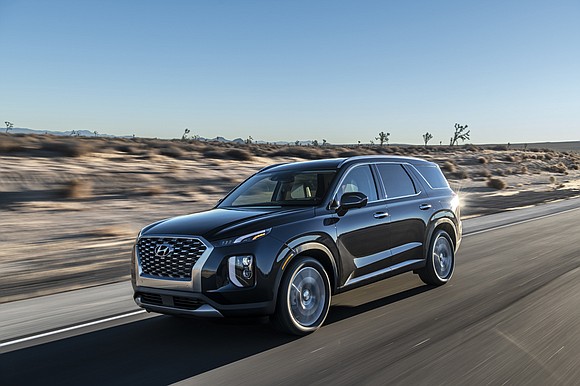 In way, Hyundai is looking to re-assert itself as a premium brand; that is a tall order in a market chock full of different nameplates. But the 2020 Hyundai Palisade is a big step in that direction.
The Palisade is a three row midsize premium crossover with a prominent grille, today's ID badge in the automotive world. The cascading grille was wide, distinctive and clearly made to lay stake to a place in the market.
Depending on trim, LED headlights and daytime running lights are available. Internals called the headlights crocodile lights, they seemingly were just above the sheet metal line. There was a vertical layout to the lights both fore and aft where too there were LED lights.
There were also options for roof glass. A regular moonroof was available and so was a double glass roof. The pane in the front was movable while the pane covering the second and the third row was fixed.
Hyundai said, "This design has aerodynamic benefits as well, with a 0.33 coefficient of drag (Cd). Palisade achieves this low drag coefficient with specific design cues that include a fast A-pillar angle, a rear spoiler side garnish, an optimized front cooling area with an extended internal air guide, aero underside panels, and rear wheel aero deflectors."
Sounds great but the proof of that was on the pavement. And it started with what was under the Palisade's hood. The midsized crossover had a 3.8 liter V6 that made 291 horsepower and 262 pound-feet of torque at 5,200 rpm. It was mated to an eight speed automatic transmission. In front-wheel drive mode it got 19 mpg in the city, 26 mpg on the highway and 22 mpg combined. In all-wheel-drive mode it got 19 mpg in the city, 24 mpg on the highway and 21 mpg combined.
The short story is that this engine made the Palisade deceptively quick. Any number of times we found ourselves braking because we had come to a curve in the road a lot quicker than we thought.
There were plenty of twisting two-lane local highways and rural roads with different surfaces that took us from here farther west of the airport. Hankered Road for instance reminded us of California; it was hilly, twisting and challenging.
That was where we wished we had an all-wheel-drive model for a little better grip and road security. Still our test vehicle handled itself well. There was no body sway, the vehicle went were we steered it without any trouble, braking was very good and the Palisade just didn't seem cumbersome. In fact, it seemed a lot lighter than it looked.
Inside there were some innovations. The Palisade had a shift by wire transmission. Thus, that freed up a lot of space on the floating console. And it had a haptic push button gear selector. There were also paddle shifters. The vehicle will automatically shift into park when the engine is turned off and the door is opened.
There was an open space underneath the console which Hyundai called a floating bridge concept. It served as storage space. The interior featured up to seven USB jacks but we thought there were not enough (two) in the front. However, there was a wireless charging pad in the console.