Minister trains youth to gain confidence and develop a career
Dave Allison – news@thetimesweekly.com | 8/14/2019, 9:59 p.m.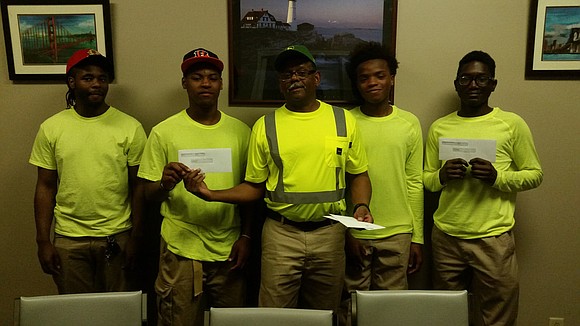 The Rev. Adrian Heath of Redeemed Connection Ministries has an unusual dual calling. In addition to being an ordained minister, he is the owner of a lawn maintenance company. Noticing the number of idle youth during the summer months while conducting his lawn service business, Rev. Heath says he got an idea for another calling, to create a program to train youth to start their own businesses or enter the workforce, using experience in the lawn service business as a model. This month, for the fourth consecutive years, a half dozen teens from Joliet graduated from his unique program. Besides getting a diploma, they left the summer-long program with skills that will help them get jobs and possibly start their own businesses.
"I noticed that there was a need in our community," Rev. Heath said. "While I was out working with my company, A & R Lawn service, young people would often come up to me and ask me about my work. I asked them if they were interested in getting into the lawn service business. That's when I decided that, in addition to my work as a minster, I also had a calling to help these young men by teaching them the business and employing them for summer work. I was led by the spirit to start a training program to teach them the lawn business and to use that experience as a model for getting jobs and to eventually start their own businesses."
Initially, the program partnered with the City of Joliet, and after a couple of years, the program expanded and is now partnering with Silver Cross Healthy Communities, Joliet Junior College's Horticulture and Landscaping Department, Minor- Morris Funeral Home and it also received a grant from the Will County Board.
"The program is a 12 week job training program, in which the students are paid a stipend. They are first interviewed and, if they are under 18, their parents are also interviewed and told what to expect in the program. If they're accepted, the participants go through 6 weeks of vocational training and then they spend the next 6 weeks out in the field, learning to operate equipment as well as safety and on-the-job-skills, by working with actual professional lawn maintenance equipment.
"The main point of the program is that this is not just about lawn maintenance, we are using the lawn maintenance profession as a model for teaching them the skills they will need throughout life to get and maintain a job and to start their own business, the Reverend emphasized. " For example, we teach them how to write a resume, job interviewing skills and how to do follow-up. We also teach them career planning, employer expectation, the importance of appearance and attitude on the job and on-the-job safety orientation. We help them to understand the dynamics of starting their own business."
The last 6 weeks of the program are very hands-on. "This is where we provide them with training on how to use tools and equipment and the importance of safety."
"We try to remove some of the barriers that young people encounter when they are trying to get and keep a job. Something as simple as not knowing public transportation options or how to approach an employer for a job, are obstacles that we try to remove. We will take field trips to a mall and have our participants role play asking a store manager for a job. You'd be surprised at how many people are discouraged from seeking a job simply because they don't know how to get to it."
Redeemed Connection Ministries is fulfilling its mission of empowerment in the community by fighting the cycle of despair. "We find that many of our young people fall into this pattern of despair because they can't find a job and can't keep a job. We try to give them the skills that will empower them with the principals and skill sets that will last them a lifetime. This is about more than just receiving a graduation certificate. It's about having skill sets for life." For more information, visit Redeemed Connection Ministries website at redeemedconnectionministries.org.