2019 Lexus IS 350 F Sport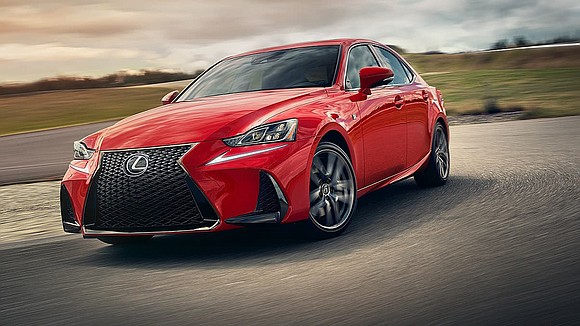 The same 3.6-liter V6 powered this car but it was tuned for 302 horsepower and 267 pound-feet of torque. It was mated to an eight-speed automatic and it had front-wheel-drive.
Neighborhood streets in New England, built long ago, are narrow. The ES 350 negotiated them without a lot of nail biting. The car was agile when negotiating intersections, many of which were not right angle affairs, and when given the chance the ES sprinted like a midsize performance sedan.
Since we were not familiar with the area, the navigation system came into play. It was relatively easy to use and accurate, if not distracting with all the alternative routing. It was hot too. But whether carrying one person or more, the air conditioning system maintained a cool cabin temperature even though it was awfully humid outside.
The ES 350 was proof to us that Lexus had upgraded all of its sedans. We drove back to Boston, parked it and got on plane and flew here. That test car had a sticker of $53,742. And the IS 350 was at the airport here where we left it.
This Lexus was different especially the interior which was black versus blond. But it was the same in the sense that it had the same quality and much the same equipment.
The drive mode system had eco, normal, snow and two sport settings. The IS 350 F Sport also had an adaptive variable suspension and a customizable drive mode. Lexus said the car's easy handling was because of a multi-link rear suspension inherited from the brand's GS sedans, along with finely tuned electronic power steering.
The F Sport package sharpens handling acuity with unique 18-inch wheels and special suspension tuning with a Torsen® limited-slip rear differential, while sharpening the design with unique interior and exterior trim. Inside, all-season comfort is enhanced through heated and ventilated front seats. The finishing touch on the F SPORT IS 350 experience Lexus said is a rousing engine sound to rev up the car enthusiast in anyone. We're not sure about all that but the exhaust of our test car did have a growl.
With a price of $50,780, the 2019 Lexus IS 350 can be counted amongst the world's best small luxury performance sedan.
Frank S. Washington is editor of AboutThatCar.com