US Open: Day one of Fan Week and Qualifying Tournament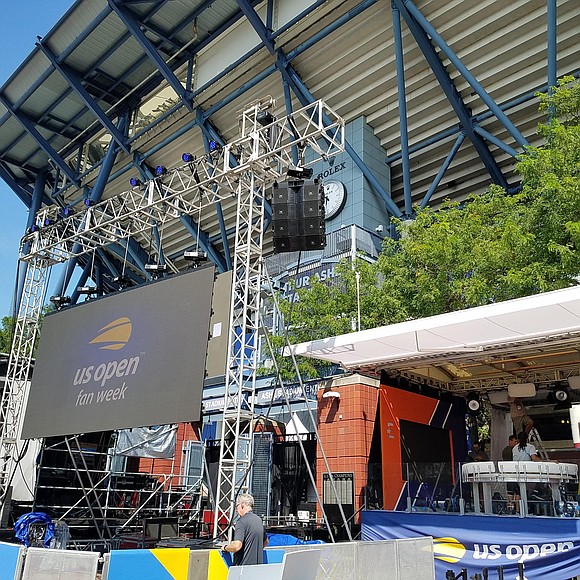 Chicago's Taylor Townsend easily won her opening round Qualifying Match against Serbia's Natalija Kostic in Day One of the US Open Qualifying which also coincides with an expanded Fan Week, Aug. 19-25 at the Billie Jean King Tennis Center.
Fans get to come to the US Open free of charge and watch the 128 men and 128 women who are competing for slots in the Main Draw, which begins on Monday Aug. 26.
Besides seeing the Qualifying Matches, fans get to see the world's top players up close and personal in featured practices. Rafael Nadal, Marin Cilic, Gael Monfils and Sloane Stephens are just a few of the stars that will blaze across the courts at Arthur Ashe and Louis Armstrong stadiums to the delight of their fans.
Legends Matches presented by Mercedes Benz feature John McEnroe and Jim Courier, Andy Roddick against James Blake and women's doubles matches featuring Martina Navritalova, Tracy Austin, Lindsay Davenport and Aranxta Sanchez Vicar.
Access to Arthur Ashe Stadium is granted for the first-time during Fan Week. They'll also enjoy Heineken Happy Hour and Chase Sound Check Concerts, Arthur Ashe Kid's Day and the Net Generation Kid's Zone where fans of all ages can play a range of fun sports activities and then enjoy Holiday Inn Kids Eat Free at Arthur Ashe Kid's Day and US Open Fan Week.
Althea Gibson, the first African American to win the US Open in 1958, is also honored with the unveiling of a statue created in her honor. For more coming events during the open visit uspen.org.