Wine of the Week - Colle Massari Poggio Lombrone Sangiovese Riserva $24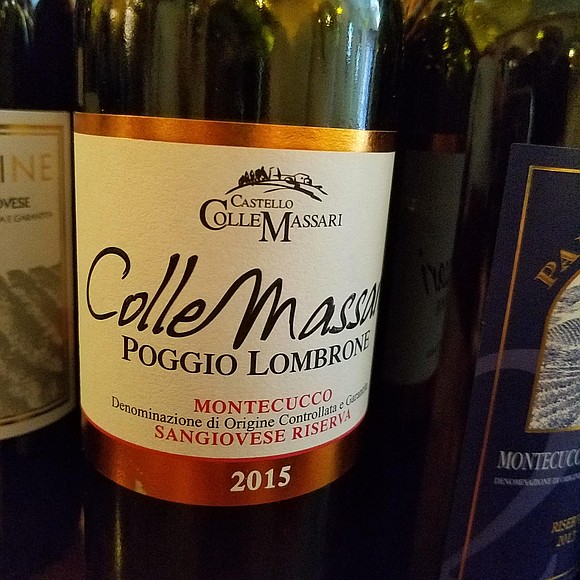 One of the great things about wine is that there's a new region to learn about almost daily. The most recent that comes to mind is Montecucco, a newly designated region in Southern Tuscany. It's near the famed DOCG Brunello di Montalcino, but the wines are yet to have anywhere near the same notoriety. They certainly don't even come close as far as price, but the flavor and the quality are outstanding. That fact was brought home with extreme clarity during a recent US tour by some of the region's leaders. One of the wines tasted was Colle Massari Poggio Lombrone Sangiovese Riserva 2015 ($24).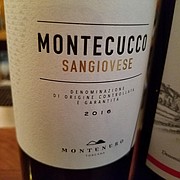 Colle Massari is the largest and most important estate in the region. Although new to the prestigious DOCG quality designation, the region has been producing wines since the time of the Etruscans in the 8th century and, more specifically, by the Cistercian Monks. Maria Iris Bertarelli and Claudio Tipa purchased the vineyard in 1998 and made it a showplace for both the winemaking and eno-tourism trades of the region. The Riserva comes from the Poggio Lombrone, which is the oldest Sangiovese vineyard on the estate. The winery's location in the foothills of the dormant volcano Monte Amiata gives it the unique advantage of mineral rich clay and sand soils and a microclimate that benefits from both sea breezes and the protective mantle of the mountain.
Grapes are harvested entirely by hand in mid to late August, just after warm summer breezes have allowed the grapes to undergo a period of ripening and maturation. This additional "hang time" allows for the grapes to develop greater complexity and a profound aromatic character that benefits from long aging in the bottle. The result is a sophisticated, full-bodied and even-textured food-friendly wine. It is a perfect match for the groaning sideboard or buffet table of a late summer garden party or barbecue.
The ripe, red fruit flavor of the wine, served with just a little bit of a chill on it, goes perfectly with grilled meats, such as a grilled or roasted porterhouse, a filet mignon or pork tenderloin, grilled pork or lamb chops, or a rosemary and olive oil brushed side of salmon. Throw on some new potatoes, bi-colored corn add a few zucchini and bright red and yellow peppers on the side and you have a feast made in heaven. I like to brush a few spears of Romaine with olive oil and a little powdered garlic and place it on the grill for just a few seconds and then squeeze a lemon wedge over it for added zest. It makes a great starter and tastes great with that first sip of Colle Massari Sangiovese Riserva.