County staffer to run for Will County Executive
8/26/2019, 10:40 p.m.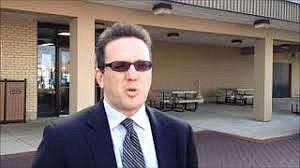 Thetimesweekly.com
Nick Palmer, Chief of Staff for Will County Executive Larry Walsh, announced his candidacy for Will County Executive.
Palmer's news comes on the heels of Walsh's recent announcement that he would not seek a fifth term. The primary will take place on March 17, 2020.
Palmer, a Joliet-native, and 40-year resident of Will County, has worked in county government under the direction of Walsh for nearly 15 years. "Larry Walsh has dedicated his entire career to public service and, in that, has been a great mentor," Palmer explained. "I have learned from the best about how to provide honest and open government and how to bring people together to find solutions for our community. I look forward to continuing that legacy."
When asked why he wants to make the change from a staff position to that of an elected official, Palmer responded, "the next County Executive has an opportunity to build on the successes of the past and to drive Will County boldly into the future. I look forward to continuing our history of responsible financial management while modernizing our infrastructure and implementing a long-term sustainable plan for the county."
Executive Walsh noted in his recent announcement that when he first campaigned for County Executive, he committed to making it a full time effort that was driven by accessibility and accountability. Today, Walsh says that he believes Palmer can build on this work in the future.
"As the Executive I have witnessed Nick's knowledge of the job inside and out and I strongly endorse his candidacy," said Walsh. "Nick Palmer's ability to work constructively with both sides of the aisle, and unwavering commitment to the people of Will County is what truly sets him apart from other candidates in this race."
Executive Walsh also noted, "This job is not about politics - it's about doing what's right for Will County and that's why I hope you will join me in supporting Nick Palmer for County Executive."
Palmer and his wife, Laura, live in Bolingbrook and have four children. Palmer is active in the community as the former president of the Bolingbrook Crime Stoppers, a member of the Will County Emergency Telephone System Board, an advocate for greater voter participation, and a coach and supporter of his children's numerous sports and arts organizations. He is a graduate of Loyola University Chicago.