VVSD Board of Ed opens superintendent search community survey
Survey Open Through September 2
8/26/2019, 10:26 p.m.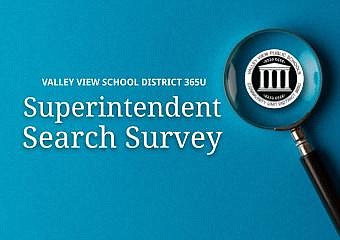 The Valley View School District 365U Board of Education is conducting a community survey as part of the process for identifying candidates to become the next superintendent of schools. Current Superintendent of School Dr. James A. Mitchem, Jr. will be retiring at the end of the 2019-20 school year.
The VVSD Board of Education invites any interested community member or VVSD staff member to complete the survey which contains seven questions and will take about five minutes to complete.
This survey will be open through Monday, Sept. 2.
Those interested in participating can click on this link for the English version of the survey. Or, by pasting the following URL into a browser. https://www.surveymonkey.com/r/TQRXCKB
A Spanish version of the survey is available by clicking on this link or by pasting the following URL into a browser. https://es.surveymonkey.com/r/T2C7G7B