"The End of Something Wonderful"
12/4/2019, 10:33 p.m.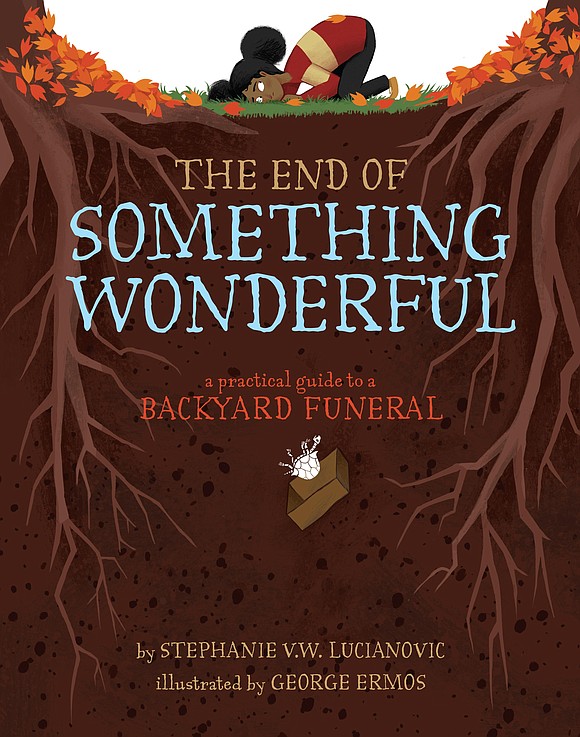 You're really going to miss your little pet.
He hasn't been feeling well lately, and you know that the worst thing is coming soon. You're not sure how you'll act and you're not sure what you'll do when it happens, but in the new book "The End of Something Wonderful" by Stephanie V.W. Lucianovic, illustrated by George Ermos, you'll get some ideas.
When something is dead, it means that it "was once alive but isn't any longer." Your Something Dead is loved very much, and you're going to miss it a lot so maybe later, it would help to have a funeral in your back yard. Your Something Dead would've liked that, if you'd asked – but even if you didn't, he knows how much you wish he was still around, though neither of you have the words to say so.
First, you'll want to find a box. A shoebox will probably work fine, and you may want to put some tissue, or a small piece of cloth inside for your Something Dead to lay on.
Next, you'll need a hole in the ground. Ask a grown-up for help, especially if your Something Dead is "really big, like a hippopotamus or a narwhal." Be sure not to bury something that's not quite dead. That's really rude.
At the funeral, it's okay to talk about your Something Dead and how wonderful your friendship was. Sing some songs, if you feel like it; or don't say anything at all, "hug that thought inside your heart..."and just cry. It's all okay.
When all the words have been said and the thoughts have been thought, put the box in the ground, cover it up, and "bring on the flowers." Then leave it alone because no Something Dead likes to be disturbed and besides, you'll want to visit that burial spot now and then, to talk about the weather and things. And someday, maybe you'll think about "Something Wonderful" again.
Although the first few pages of this book may seem a little on the light side in both word and illustration, adults know that there are times when you have to smile through the tears when someone (or something) dies. But neither tone, story by author Stephanie V.W. Lucianovic, nor the images by George Ermos make light of a serious subject; in fact, the truth is that "The End of Something Wonderful" is a book that teaches kids to grieve.
Even so, there are things this book is not.
It's not something to grab without thinking: Lucianovic doesn't include cats or dogs in her narrative, and kids without proper back yards may feel left out. It's not something to blithely read aloud; it needs appropriate adult guidance. It's not sentimental, either, but it shows kids that it's okay to cry, and move on.
For the child who needs that nudge, or for one that'll soon be facing the inevitable, this is the book to have around. Parents of those kids know that "The End of Something Wonderful" is one you can't miss.