The Three Queens at Lyric Opera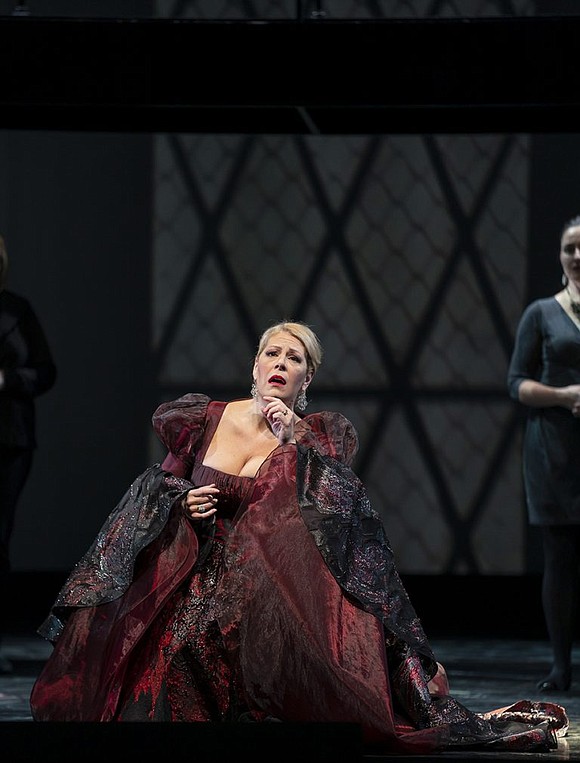 Illinois' own and Lyric Opera favorite Sondra Radvanovsky gave a working definition to the term bel canto (beautiful singing) in the semi-staged performance of final scenes from three of Gaetano Donizetti's tragic operas of England's Tudor period, Anna Bolena (1830), Maria Stuarda (1835) and Roberto Devereux (1838), all performed under the banner title of The Three Queens in early December.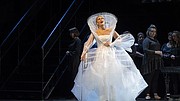 The operas cover the most climatic moments in the lives of three of history's most exceptional women, Anne Boleyn, the doomed second wife of King Henry VIII, Mary Stuart, the imprisoned Cousin of the all-imperial Queen Elizabeth I and Roberto Devereux, the likewise doomed paramour of The Queen Anyone who missed the performances, missed one of the sublime triumphs of Lyric Opera Chicago's 2019/20 season. (Footnote: Elizabeth I's mother was Anne Boleyn, who was executed by her father King Henry VIII, and that, dear friends could be the subject of yet another opera.)
Sandra Radvanovsky is one of the premiere voices on the current global stage and her tackling of three of opera's most challenging roles, both vocally and dramatically, is nothing short of astounding. There were very few empty seats for the opening night performance, and those who attended were richly rewarded. There was not an errant breath and very few distracting coughs during the entire performance. I believe the term is rapt attention. Even at moments when Ms. Radvanovsky's ravishing voice achieved the near impossible in terms of subtle control and astronomic achievement, applause was held in reverence of the moment.
With distinctive gowns created for each of the queens by designer Rubin Singer collaborating with jewelry designer and philanthropist Ann Ziff and Tamsen Z, and sets coordinated by Director Matthew Ozawa with Lighting Designer Sarah Riffle, the performance moved at a steady clip. Italian conductor Riccardo Frizza, a celebrated bel canto specialist, lent inspiration to Donizetti's fluid score. Lyric choral master Michael Black proved that Lyric's ensemble is among the best anywhere. Projected titles by designer Chris Maravich, provided welcomed emphasis to each of the key arias, sometimes to humorous effect. The chorus and orchestra were superb.
Radvanovsky's performance ranked right up there with those of the greats before her; Callas, Sills, Caballe among others. This technique of showcasing a single, significant Lyric performer in a themed work is an excellent way to present opera to a new audience. Its very streamlined, focused and attention-grabbing. Lyric Opera Chicago next presents the incomparable Renee Fleming, who is also Lyric's Creative Consultant, stars in the beloved Light in the Piazza, Dec. 14-29. For performance schedule and tickets visit lyric opera.org.