A Great Present to Open
12/23/2019, 6 a.m.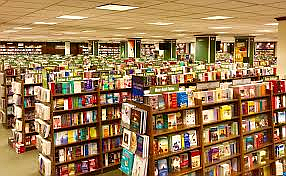 It's not too late for that last gift
So, it's a wrap.
Everything's under paper and under the tree. You're done with all your shopping, except for one person. Or two. Maybe four.
So what do you get for that hard-to-buy-for person who never likes anything? Well, as they say, a book is a present they'll open again and again, so why not head to your local bookstore for these great gifts:
FICTION
For the reader who loves a little bit of romance with their ghost story, "The Ghost Clause" by Howard Norman is a good choice to wrap up. It's the story of a ghost and his reflections on his marriage, as he observes the union of the new owners of his former home. Wrap it up with "The Plus One" by Sarah Archer, a novel about a robotics engineer who needs a date for a wedding. So why not just make one?
The traveler on your list will love reading "Layover" by David Bell. It's the story of a man who meets an intriguing stranger in an airport and falls in love with her. What happens next isn't a love story… Wrap it up with "The Dollmaker" by Nina Allan – because it is a sort of love story.
On your list, there's undoubtedly someone's mom, or maybe someone who has decided not to be. In "Motherhood" by Sheila Heti, a woman wrestles with a "to be or not to be" question and all that comes with it. Will she have children, or won't she?
For the giftee who loves being organized, wrap up "Careful What You Wish For" by Hallie Ephron, a novel about a professional organizer whose husband is a hoarder. Good for her, though, she has a couple of new clients who will give her something else to think about – except one thing leads to another and she finds herself in a much, much bigger mess. Wrap it up with another makes-you-think novel: "The Lightest Object in the Universe" by Kimi Eisele, a story of the end of the world, and a chance to rebuild society anew.
For the reader who loves historical fiction, "Quintland Sisters" by Shelley Woodwill be a great gift to give. It's a fictionalized tale of the Dionne Quintuplets, as told by their nurse in novelized form.
Readers who enjoy crime fiction will love "The Shameless" by Ace Atkins. When a twenty-year-old suicide suddenly becomes of interest to a couple of big-city reporters, Sheriff Quinn Colson wonders why – but before he can find out, he's embroiled in another, more recent crime and an election that could send Tibbehah County into a crime-ridden tailspin.
The lover of magical novels, wrap up "The Daughters of Temperance Hobbs" by Katherine Howe. It's a novel about a young woman who's keeping a secret from her colleagues and the world: she's a descendant of a possible witch, and she possesses powers that have come down the bloodline, but can it save a loved one's life?