Troy Speech Team members receive Judges' Choice Awards
12/23/2019, 6 a.m.
Twelve members of the Troy Middle School Speech Team and one of the William B. Orenic Intermediate School Speech Team received Judges' Choice Awards in individual or group categories at the IESA State Speech Contest recently held at Minooka Junior High School.
"Of the 14 Judge's Choice Awards given that day," said Coach Shari Pagel, "Troy received seven, which is a pretty good indication that we came out on top. The speech contest day is always rewarding as we see students showcase their talents after many weeks of hard work."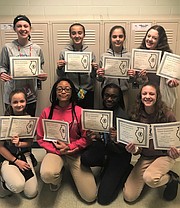 Students who received the Judges' Choice Awards were eighth-grader Karis Posteluk for Original Script; seventh-grader Kendra Posteluk for Solo Acting; fifth-grader Jennifer Newby for Solo Acting; eighth-graders Payton Fraser and Karis Posteluk for Improv Duet Acting; eighth-grader Jade Newby and seventh-grader Sydney Piazza for Duet Acting; seventh graders Caiden Koerner, Molly Murdock-Schey and Halle Berk and eighth grader Savannah Groh for Group Acting ; eighth-graders Savannah Groh, Kynnedi Jackson, Jaedyn Jumper and Gabby Piazza for Group Acting; and Jade Newby, Gabby Piazza, Sydney Piazza and Jaedyn Jumper for Team Improv.
Coaches of the Troy Speech Team are Shari Pagel, Jen Silverman, Tammie Herrejon and Sarah Cooper.
The schools are part of Troy Community School District 30-C.