JTHS 204 Partners with BAG Lady Outreach for Toiletry Locker program
12/24/2019, 6 a.m.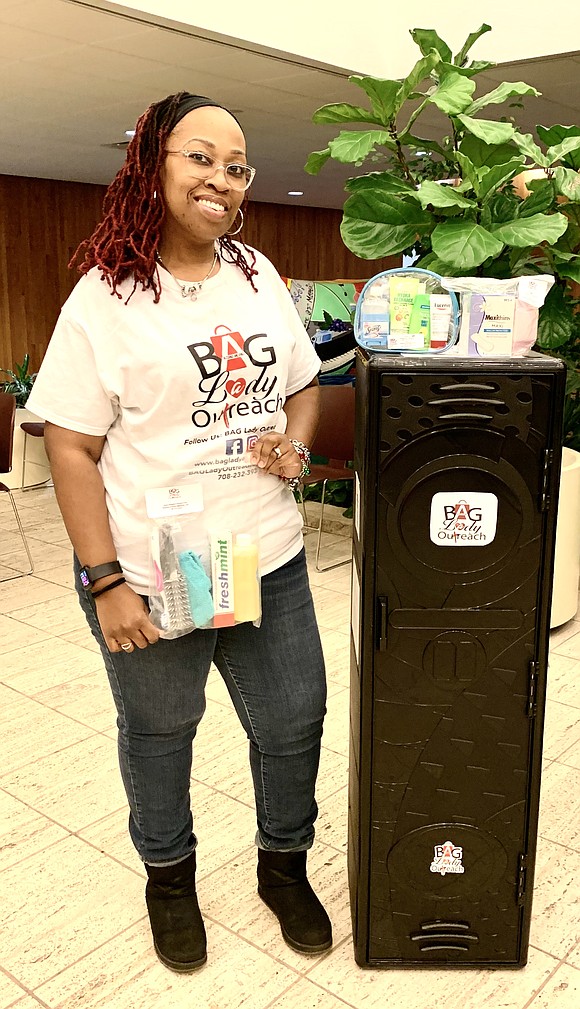 The Joliet Township High School Board of Education unanimously approved a Toiletry Locker Pilot Program for implementation at Joliet Central and West High Schools at the Dec. 17 Board of Education meeting. The program, a partnership with the 501c3 organization, BAG Lady Outreach, is the first of its kind for the organization and will provide lockers filled with toiletry supplies that students at both campuses can access if needed.
The project provides two lockers that will be housed in the PPS Offices at Joliet Central and Joliet West High School. This location was selected strategically to provide further assistance and resources to students who are observed to be in regular need of items. Staff will notify BAG Lady Outreach when items are low, and they will be re-stocked at no cost to the district.
The partnership is spearheaded by Archana Liggins, Founder and CEO of BAG Lady Outreach. As the Agency Relations Area Lead for the Northern Illinois Food Bank for Will, Grundy and Kankakee Counties, Archana founded BAG Lady Outreach in January 2019 based on her belief that every underserved person deserves to have dignity through access to hygiene product. What started out as providing 38 "blessing bags" to those in need in honor of her 38th birthday, has grown to 4,000 bags distributed locally this year alone throughout Cook, Will and Kankakee County, along with sending donations internationally to Africa the Bahamas.
Kristine Schlismann, JTHS Director of Community and Alumni Relations, has been working with Liggins on the program implementation. "Archana epitomizes the saying that one person can make a difference," said Schlismann. "She continually looks for the needs in our community, so that she can provide access to essential supplies that no person should be denied. Archana has become a true partner to JTHS, participating in a Career Exploration event at Central where she gave toiletry bags to students, to providing holiday gifts for grandparents and their children who participate in the JTHS Grandparents Raising Children program led by Bridgebuilder Mary White. We are deeply grateful for this partnership and the impact this new program will in our schools."
About BAG Lady Outreach: BAG Lady Outreach is an Illinois non-profit (501c3) organization that was founded in January 2019 by Archana Liggins, on belief that every underserved person deserve to have dignity. Reflections from her personal work with hygiene insecure families, she founded an organization dedicated to improving access and decreasing need to the underserved families in the community for these items. BAG Lady Outreach is currently a volunteer-ran organization. The specific purpose of BAG Lady Outreach is to help realign men and women in underserved communities with resources and support to alleviate poverty and promote community. BAG Lady Outreach collects and repurpose essential tangible products and resources; and coordinates activities and events to support families in need (regardless of their race, ethnicity, or religion). Bag Lady Outreach's vision is that one day everyone living in the US will have access to essential products, accessories, resources and encouragement to feel confident, healthy, loved and supported.
BAG Lady Outreach has had many successful outreach event and donation drives to support the community:
• Community Baby Shower & MLK Service Day Projects
• Student Hygiene Kits
• Spring Break & Summer Break Bagged Books for Students
• Hygiene Kits for Tanzania Development Support
• Taste for the Homeless Event in Dolton, IL
• Hygiene Kits for Lagos, Nigeria Medical Mission Trip
• Hygiene Kits for Families affected by the Hurricane in the Bahamas
• Multiple Outreach Event Distributions - Purses & Bags for families attending events
BAG Lady Outreach has made a great impact in the community since organizing in January 2019. We are expecting to increase our reach and impact.
For any questions, please do not hesitate to reach out to Archana Liggins atbagladyoutreach@gmail.com or 708.232.3930.