Nacho Tots
2/1/2019, noon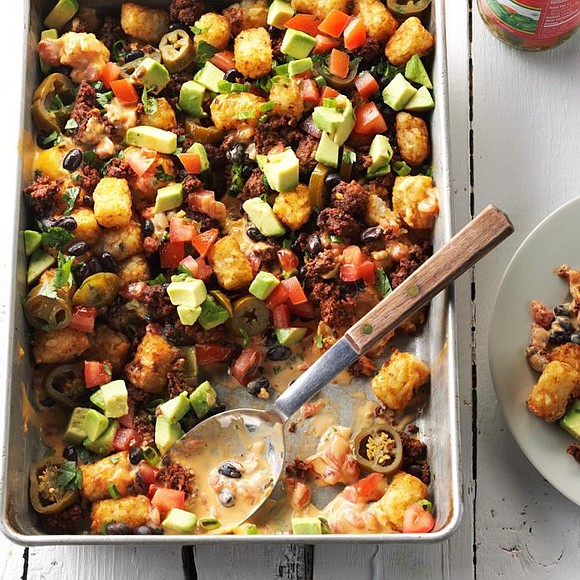 Servings: 12 / Total Time: 1 HR
Ingredients
• 1 package (32 ounces) frozen Tater Tots
• 7 ounces fresh chorizo or bulk spicy pork sausage
• 1 can (14-1/2 ounces) diced tomatoes with mild green chilies, undrained
• 12 ounces process cheese (Velveeta), cubed
• 1 can (15 ounces) black beans, rinsed and drained
• 1/2 cup pickled jalapeno slices
• 1/4 cup minced fresh cilantro
• 1/3 cup thinly sliced green onions
• 1 medium ripe avocado, cubed
• 1 medium tomato, chopped
• 1/2 cup sour cream
Directions
• Preheat oven to 425°. Place Tater Tots in an ungreased 13x9-in. baking dish. Bake, uncovered, 40 minutes.
• Meanwhile, in a large skillet, cook chorizo over medium heat until no longer pink, breaking into crumbles; drain. Remove from pan and set aside. In same skillet, add diced tomatoes and cheese. Cook, uncovered, over medium heat until blended and cheese is melted, stirring occasionally. Pour over Tater Tots. Sprinkle with chorizo and black beans.
• Bake, uncovered, 10 minutes. Sprinkle with jalapenos, cilantro and green onions. Top with avocado and tomato. Serve with sour cream.