CHOCOLATE CHERRY AMARETTO VALENTINES CUPCAKES
2/5/2019, noon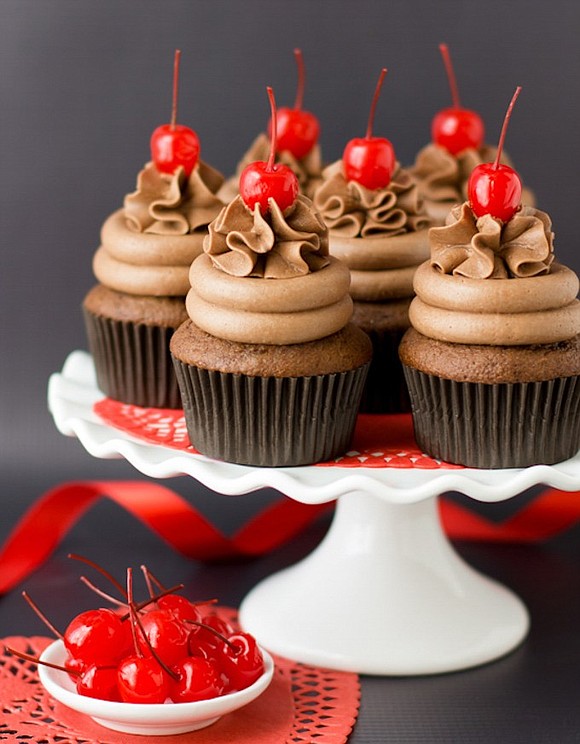 Servings: 24 / Total Time: 50 mins
Ingredients
CHOCOLATE AMARETTO CUPCAKES
• 1 Devils Food Cake Mix
• 4 tbsp instant chocolate pudding mix
• 4 large eggs
• 1/2 cup sour cream
• 1/3 cup amaretto liquor
• 2/3 cup milk
• 1 tsp almond extract
• 1/4 cup melted butter slightly cooled
FILLING
• 1 Can Cherry Pie Filling
CHOCOLATE AMARETTO BUTTERCREAM
• 1 cup unsalted butter
• 1 cup shortening
• 1/2 tbsp almond extract
• 7 tbsp Hershey Cocoa Powder
• 8 cups powdered sugar
• 3-4 tbsp Amaretto Liquor
• 4-6 tbsp milk
TOPPINGS
• 24-30 Cherries
DIRECTIONS
1 Preheat oven to 350 degrees F. Line two 12-cup muffin pans with cupcake liners and set aside.

2 In a medium mixing bowl, sift together cake mix and pudding and set aside. In the bowl of a stand mixer (or large mixing bowl) using the paddle attachment, beat together eggs, sour cream, liquor, milk, and extract at low speed. Add the dry ingredients and beat just until combined. Beat in melted butter just until combined. Once all ingredients are incorporated, scrape the sides and bottom of the bowl and turn the mixer up to medium-high and beat once more for 15-20 seconds.

3 Spoon 3 tablespoons of batter into each cupcake liner and bake on the middle oven rack, for 16-18 minutes, baking up to 24 cupcakes side by side at a time. (for best results bake cupcakes 1 pan at a time) Once a toothpick comes out clean, remove from oven and allow cupcakes to rest in pan for 2-4 minutes before removing and transferring to a cooling rack. Prepare pan and repeat this step with any remaining batter.

4 Step 4: While cupcakes are cooling, prepare frosting. In the bowl of a stand mixer (or large mixing bowl) using the paddle attachment, cream butter at medium speed until soft and smooth. Add shortening and extract and beat until combined. Slowly add in powdered sugar and cocoa beating slightly between each addition. Add in amaretto and then milk 1 tablespoon at a time beating in between additions until desired consistency. Turn mixer medium- high and beat for 1-2 minutes.
5 Step 5: Once cupcakes have completely cooled, core and fill cupcakes with cherry pie filling. Frost cupcakes with chocolate amaretto buttercream. Store in an airtight container and refrigerate until served.