Residential project denied for Plainfield
Madhu Mayer – news@thetimesweekly.com | 2/6/2019, 4:49 p.m.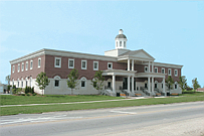 Concerned with traffic and opposition from nearby residents, Plainfield trustees are not willing to green light any development project in a section of the community many say is inundated with congestion from cars and trains that travel down the busy roads.
The Plainfield Village Board Monday denied the request for rezoning of the Park West residential project at 24950 W. 127th St.
Associate planner Yuchen Ding said applicant Anthony Pasquinelli wants to convert the vacant land south of Canterbury Woods, north of King's Crossing subdivision and east of the Canadian National Railroad tracks into a 51-unit townhome development. The project is on approximately 11.43 acres of vacant land now owned by Grace Pointe Church in Plainfield.
Prior to the denial, developers wanted to build nine townhome buildings consisting of three five-unit buildings and six six-unit buildings.
But the development plan reviewed by the board Monday did not garner their support due to the proposed number of units and gross density. Plus, neighboring residents from King's Crossing and Canterbury Woods' subdivisions have been vocal about the development's impact on traffic in the area as it is close to Plainfield North High School.
Village trustees Larry Newton and Brian Wojowski agreed that the proposal is too high in density. Plus, Wojowski was worried about access to the development as plans call a 60-foot-wide loop right-of-way into the community to connect to west 127th Street and cut off access to south 248th Avenue.
Trustee Ed O'Rourke was the only trustee to support the project.