COMMENTARY: Standing on the Right Side of History
Jeffrey L. Boney | 2/26/2019, 10:48 p.m.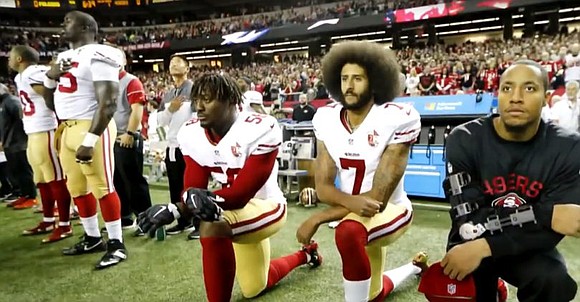 One of the best skits that ever appeared on comedian Dave Chappelle's hit television show, the Chappelle Show, was one called "When Keeping it Real Goes Wrong. "Each skit would highlight the outcome of what would happen to individuals who made the choice to 'keep it real.' In every skit, it showed how a person's decision to 'keep it real' led to a negative outcome for them doing so. In other words, when you decide to 'keep it real' there are consequences for your actions, which could backfire on you.
Former NFL quarterback Colin Kaepernick decided to 'keep it real', but in his case, he came out on top.
In spite of receiving pushback from those who disagreed with his stance. In spite of being blackballed from playing the game he loved. In spite of being vilified by countless people, including NFL owners — and even the President of the United States. In spite of everything that was thrown his way, Kaepernick proved that when you stand up for what you believe in, even if you have to stand alone, you can win.
More importantly, Kaepernick showed that you can motivate and inspire at least one other person to stand with you when the odds are stacked against you and make a major statement and significant impact.
This past week, it was reported that Kaepernick, who filed a grievance against the National Football League (NFL) back in October of 2017, had reached a settlement with the NFL for a substantial amount of money. Kaepernick had not played a game in the NFL since early 2017.Kaepernick filed the grievance and accused NFL owners of working in collusion to deliberately keep him from playing quarterback in the league, because of his much-publicized stance of pointing out racial injustice and police brutality by protesting and taking a knee during the national anthem of each game during the 2016 NFL season.
It was also reported that his former San Francisco 49ers teammate, safety Eric Reid, who was one of the only other players to consistently stand with Kaepernick from the beginning of his initial protest, has settled his collusion grievance against the NFL for a significant amount of money.
While the details of both settlement agreements are undisclosed due to a confidentially agreement between all parties, it has been reported that Kaepernick's settlement amount alone is somewhere in the ballpark of $60 to $80 million. Reid's settlement is reported to be significantly less, but he still received a settlement, which means that both he and Kaepernick proved, over these past two years, that the NFL was wrong and did not want the truth to come out.
If the NFL was innocent of these charges, and had the evidence to prove their innocence, they would have fought tooth and nail to crush Kaepernick and Reid. But Kaepernick and Reid stood together and came out victorious, not just because they received a financial settlement, but because they were able to stand up against the Goliath known as the NFL and show that you can't silence the voice of Black people.