JTHS cyborgs unveiled 2019 FIRST competition robot
2/26/2019, 10:41 p.m.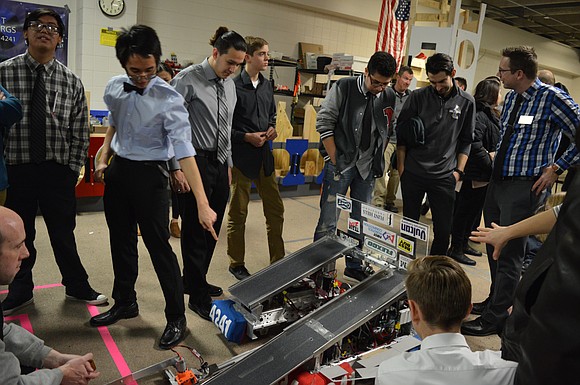 The Joliet Township High School Cyborgs Robotics Team unveiled its newest robot during the 7th Annual Community Exhibition on Thursday, February 21 in the JTHS Administrative Center. The team is mentored by JTHS teachers Mr. Abel Farias, Mr. Michael Zwartz, and Ms. Arianna Farias.
Ms. Farias said, "Our students come in after school and work diligently with one goal: to be competitive. However in the process, they learn about the resources they have in the community. They work alongside community engineers who guide them so their ideas become reality. I am beyond proud of these students."
The event commenced with a student-led presentation in the boardroom, full of families, sponsors, community members, and community officials. The students introduced the FIRST competition's theme "Destination: Deep Space", presented by the Boeing Company, which challenges the competing schools to design and build a robot to "place hatch panels on their rockets, load valuable cargo... and return to the safety of their habitat," as described by a First Robotics video.
Following strict criteria and competition rules, the Joliet Township High School had six weeks to design, build, and program the robot.
JTHS Cyborgs' Senior Marketing Leader, Ruth Pina, said, "The Joliet Cyborgs is a place where anyone can learn a new skill that will help you in the long-term, like designing, programming, or marketing. You can take anything you learn from the team to the real world.