Warehouse development, I-80 bridge concerns pressing issues for Joliet
Megann Horstead | 2/26/2019, 10:51 p.m.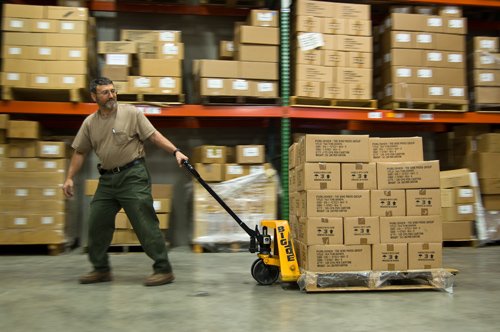 Warehouse development and the condition of the Interstate 80 bridge are among the concerns with Joliet City Council.
Both topics surfaced after Mayor Bob O'Dekirk issued a statement that spoke of an inspection report regarding the I-80 bridge and its structural weaknesses. In it, O'Dekirk details a plan to execute on an emergency basis, should the Illinois Department of Transportation and the U.S. Department Transportation's schedule for funding and repairs remain unclear. Action items include:
• Order the diversion of any vehicles seeking access to I-80 entrance ramps which would lead to vehicles traveling over the bridge
• Post signs (4" by 8" or larger) on the Joliet streets near the entrance and exit ramps of I-80 which warn motorists of the potential danger involved in traveling over the I-80 bridge pending repairs
• Notify all Joliet residents by mail, text, email and public service announcements on cable television and local radio of the current potential dangers and designated alternative routes of transportation designed to limit traffic congestion on main thoroughfares
Since then, city officials have arranged meetings and phone conferences with congressional lawmakers.
"There was a buzz throughout the community," Councilman Larry Hug said.
The city of Joliet is waiting for the Illinois Department of Transportation and the U.S. Department of Transportation to explain what is the course of action to take moving forward, should the bridge structure become a partial or complete failure.
The I-80 Bridge is funded and operated by the Illinois Department of Transportation and the U.S. Department of Transportation.
A number of people gave remarks on the matter during a public comments section at the recent City Council meeting.
"This is kind of an emergency," said Dave Harris, who resides on Mills Road. "This is a big deal. People are dying in crashes with semis."
Harris said he, for one, recognizes that I-80 concerns are not solely a Joliet issue.
"I do appreciate the idea that the communities should work together instead of finger-pointing at Joliet," O'Dekirk said, noting efforts made by neighboring communities to expand warehouse development.
O'Dekirk said he doesn't understand why funds are directed to every other community but the city of Joliet.

"I don't know where else in Illinois they're seeing anywhere near this type of economic growth that we have, here, in Will County," he said.
The city of Joliet and Will County are prohibited, by law, from interfering in the obstruction of interstate traffic or closing the I-80 bridge.
Still, the mayor's proposal has garnered support in the community.
"I support you wholeheartedly, and I'll be on the frontlines to stop that traffic," Councilwoman Jan Quillman said. Thetimesweekly.com