Local community considers age increase for tobacco purchase
Madhu Mayer – news@thetimesweekly.com | 2/27/2019, 10:08 p.m.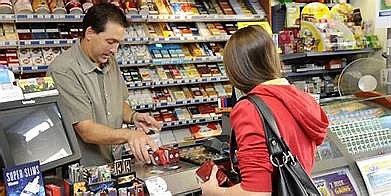 The Village of Plainfield is joining a growing national initiative that strives to increase the tobacco purchase age in the state from 18 to 21.
The Plainfield Village Board this week discussed the Tobacco 21 initiative, which aims to one day have a tobacco-free generation as the popularity soars among teen-agers with the use of electronic cigarettes. The goal of the initiative is by increasing the legal age of sale, it would virtually eliminate the ability of high school students to buy tobacco products and share those products with younger kids.
During the committee of the whole workshop, staff presented a draft ordinance that would raise the age for the purchase and possession of electronic cigarettes and tobacco accessories in Plainfield from the age of 18 to 21. Cigarette accessories include cigarette papers and rolling machines and pipes. The proposed ordinance would also require any business that sells such tobacco products to have a sign indicating the age increase, if it is passed into state law. The annual license fee for businesses in the village would be $250.
Village trustee Margie Bonuchi applauded the draft ordinance, saying it is a good start to keep e-cigarettes away from teenagers.
"I don't want to make it easier for them to get it," she said.
As of Jan. 8, six states, including California and New Jersey, have raised the minimum tobacco purchase age to 21. Approximately 30 local communities in Illinois, such as Bolingbrook, Aurora and Naperville, have also passed similar regulations.
Staff from the Will County Health Department presented sobering statistics that show how much of a financial and personal burden tobacco use has on society. Studies have shown that 41 percent of Will County high school students have used a tobacco product in the last 30 days and 95 percent of smokers start the habit before the age of 21.
Additionally, health department officials Monday said one in three Americans age 17 or younger will die early from a smoking-related illness, unless something is done to reduce their tobacco rates. Economists also project that Tobacco 21 could save $212 billion in medical costs nationally.
Furthermore, 230,000 Illinois teens alive today will die prematurely from smoking and tobacco use, according to the health department. The dangerous habit also costs Illinois $5.49 billion in healthcare costs and $5.27 billion in lost productivity. Health department staff adds that studies have shown that each pack of cigarettes consumed costs society $18.05 in increased health care and work-related expenditures. It is estimated that tobacco use causes more premature deaths than AIDS, auto crashes, homicides, alcohol use, illegal drugs, suicides and fire combined.
Lauren McCall of Plainfield said the initiative is worth pursing.
"Being a smoker myself, I know how hard it is to quit the habit," she said. "If you can prevent kids from starting smoking at a young age, at least you have the fighting chance to stop them from picking up a cigarette and becoming addicted to nicotine."