Romeoville tumbleweeds gymnastics halfway through season
2/27/2019, 10:13 p.m.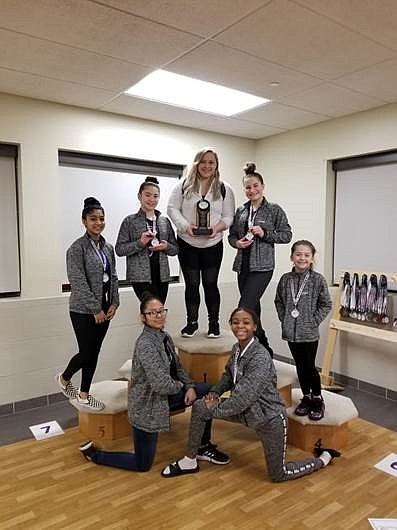 The Romeoville Tumbleweeds gymnastics team is almost at their half way-point through the competitive season and have been continuing a streak of top finishes in local competition. The team recently attended the Valentine Invite Meet in Itasca (IL) with 20 participating athletes.
More than half of the team won 1st or 2nd place all around. Second place all around finishes included; Julienne Tutaan (level 2), Annalise Pitt (level 5), Arely Arreaga (level 5), and Maddy Sisto (level 7). First place all around finishes were accomplished by Daniela Fajardo (level 2), Refelyn Gratace (level 3), Sancia Perakett (level 4), Julia Ham (level 4), Ashley Roppolo (level 5) and Deja Ray (level 5).
The Tumbleweeds are based out of the Romeoville Recreation Department and led by Cassandra Proctor, program supervisor. The next competition for the team is March 9-10 at the Splash into Spring meet in New Lenox (IL). Come out and cheer the Tumbleweeds on home turf at the Tumbleweeds Beach Party meet on March 23 at 900 W. Romeo Road. If your daughter is interested in trying out for the Romeoville Tumbleweeds, contact Cassandra at 815.886.6222. Tryouts are in July and are only open to those who preregister. Details about the team can be found at www.romeoville.org/fun.