Bucatini with Winter Pesto and Sweet Potatoes
1/1/2019, noon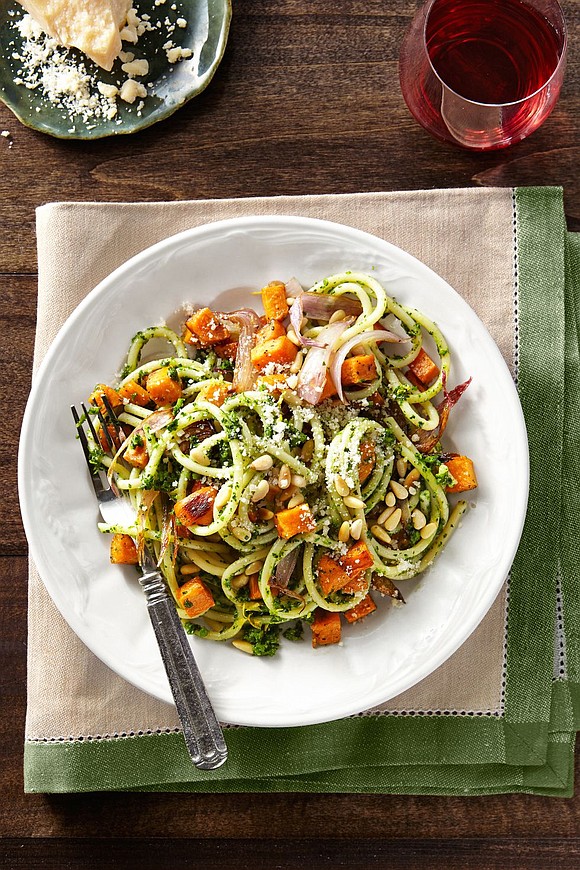 Servings: 4 / TOTAL TIME: 20 mins
INGREDIENTS
1 large sweet potato, peeled and cubed
1 medium red onion, cut into wedges
1/3 c. plus 2 tablespoons olive oil, divided
Kosher salt and freshly ground black pepper
4 c. torn kale, collards, or mustard greens
1/2 c. fresh flat-leaf parsley
2 oz. grated Parmesan cheese (about 1/2 cup), plus more for serving
1 clove garlic
2 tsp. lemon zest, plus 1.5 tablespoons lemon juice
12 oz. bucatini
toasted pine nuts, for serving
DIRECTIONS
Preheat oven to 425°F. Toss together potato, onion, and 2 tablespoons oil on a rimmed baking sheet. Season with salt and pepper. Bake, stirring once, until potato and onion are tender, 24 to 26 minutes

Meanwhile, place kale and parsley in a food processor. Pulse until chopped, 4 to 5 times. Add Parmesan, garlic, lemon zest, and juice. Pulse, scraping down the sides as needed, until finely chopped, 10 to 12 times. With the machine running, slowly add remaining 1/3 cup oil through the feed tube. Season with salt and pepper.

Cook pasta according to package directions, reserving 1/4 cup pasta water before draining. Toss pasta with roasted vegetables, pesto, and pasta water.

Serve topped with Parmesan and pine nuts.