BAKED TEX-MEX SPAGHETTI
1/8/2019, noon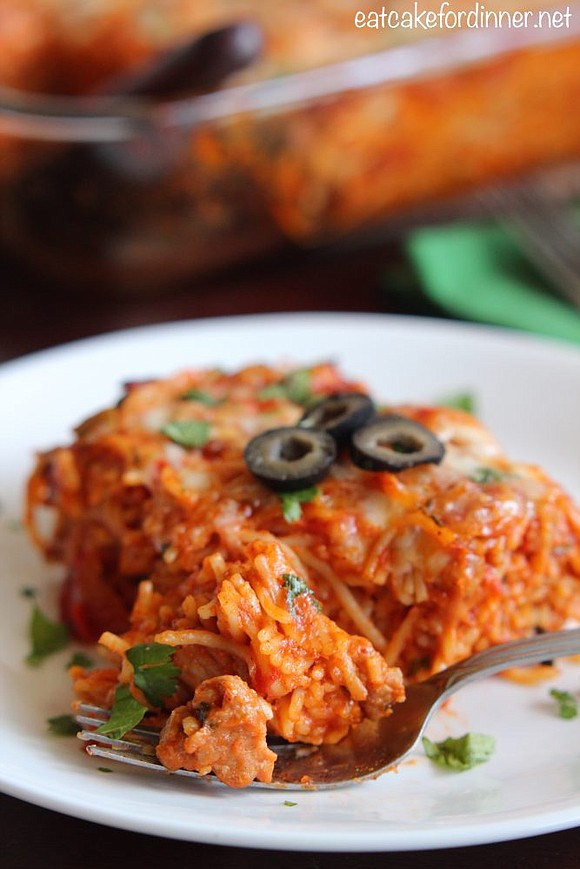 SERVINGS:8 / TOTAL TIME: 45 MINS
INGREDIENTS
• ¾ Lb. ground turkey or lean ground beef
• ½ c. finely chopped onion
• 4 Tbl. unsalted butter
• ½ c. all-purpose flour
• 1½ c. milk
• 2 (8 oz.) cans tomato sauce
• 1 (10 oz.) can diced tomatoes and green chiles, undrained
• 1 (8 oz.) pkg. Cheddar cheese, grated
• 1 (8 oz.) pkg. Pepper Jack cheese, grated
• 2 Tbl. chopped fresh cilantro
• 1 Tbl. ground cumin
• 2 tsp. chili powder
• ½ tsp. salt
• 1 (16 oz.) pkg. angel hair pasta
DIRECTIONS:
Preheat oven to 350 degrees. Spray a 9x13-inch casserole dish with cooking spray. Cook pasta according to package directions for al dente; drain and set aside. Meanwhile, brown ground turkey or beef in a large skillet over medium heat. When meat is almost cooked through, add the onion and saute until tender and meat is cooked through.

Remove meat from the skillet and set aside. To the same skillet, melt butter over medium heat. Gradually whisk in the flour until a paste forms and cook for 2 minutes, whisking frequently. Slowly whisk in the milk until thickened. Add the tomato sauce and diced tomatoes.

Cook, stirring occasionally, until mixture is thick and creamy. Stir in the meat mixture, grated Cheddar cheese, 1 cup of the Pepper Jack cheese, chopped cilantro, cumin, chili powder and salt. In a large bowl, combine the cooked pasta and sauce mixture and stir until all pasta is evenly coated with sauce.

Pour into prepared casserole dish, cover with foil and bake for 30 minutes. Remove from oven and top with remaining Pepper Jack cheese and return to oven, uncovered, for another 5 minutes or until cheese is melted and bubbly. Let stand a few minutes before serving, then slice and garnish with desired toppings (olives, chopped cilantro, diced tomatoes, sliced green onions). Serves: around 6 - 9.