Museum of Science and Industry's Black Creativity Family Day
January 21, Martin Luther King, Jr. Day, offers free Museum Entry for Illinois residents
1/8/2019, 8:16 p.m.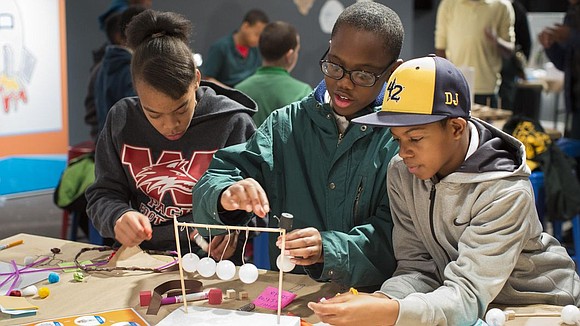 On Martin Luther King, Jr. Day — Monday, January 21 — guests are invited to the Museum of Science and Industry, Chicago (MSI) to celebrate Black Creativity Family Day. During Family Day, a free day for Illinois residents, guests can explore and get hands-on with Black Creativity experiences, including:
• Juried Art Exhibition (Open Jan. 14 – Feb. 24): Interact with Chicago-based artist SHALA. And contribute to collaborative artwork that will be showcased during the run of Black Creativity in the West Pavilion. This gallery is the longest-running exhibition of African-American art in the United States, showcasing more than 100 works of art from emerging and professional artists.
• Innovation Studio (Open Jan. 21 – Feb. 24): Get the first look at the Innovation Studio, a hands-on workshop that encourages guests to experiment and explore new ideas through designing and making prototypes to test in the studio.

Black Creativity, coinciding with Black History Month, allows guests to take part in a month-long celebration of African-American innovation. This annual program introduces guests to the ingenuity that's shaping our future and advancing society in the areas of science, technology, engineering and medicine. Both the Juried Art Exhibition and Innovation Studio are open through February 24, and are included with Museum Entry.
Along with Martin Luther King Jr., Day, MSI is also offering free Museum Entry to Illinois residents every Monday through Thursday in January, and through most of February. Illinois residents can reserve their free Museum Entry tickets online for January 7–10, 14–17, 21–24, 28–31 and February 4–7, 11–14, 19–21, 25–28. Free Museum Entry gives guests the perfect opportunity to explore MSI favorites and create new memories with specialized experiences* including:
• Wanger Family Fab Lab: Dream up, design and make almost anything you can imagine using 3D printers, vinyl and laser cutters in this small-scale workshop for computer-based innovation, design and fabrication.
• Giant Dome Theater: Enjoy an amazing giant-screen experience on Chicago's only wrap-around, five-story domed screen.
• U-505 On-board Tour: Climb aboard this National Historic Landmark and discover the remarkable story of the sub's capture during World War II.
*Requires additional ticket
Black Creativity Family Day: January 21, 2019
Illinois Resident Free Days: January 7–10, 14–17, 21–24, 28–31 and February 4–7, 11–14, 19–21, 25–28.
For more information, visit msichicago.org/blackcreativity