Rialto Square Theatre present local Music Mondays 2019
1/9/2019, 3:49 p.m.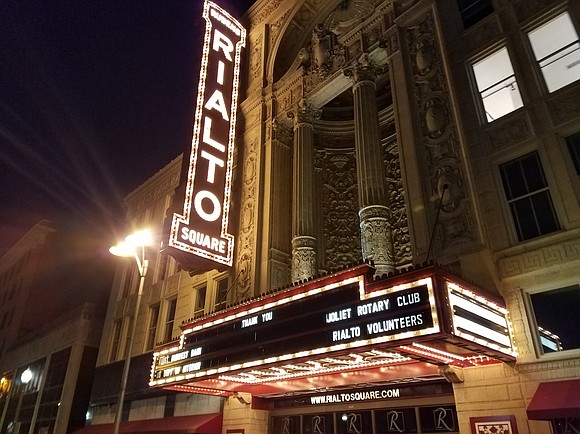 Joliet- Rialto Square Theatre is excited to announce the lineup for the Local Music Mondays Music Series, in partnership with Chicago Street Pub. This music series celebrates the unique musical talents of Joliet area musicians in the beautiful Rialto Square Theatre. "We loved partnering with Mike Trizna and Chicago Street Pub to bring local talent to the Rialto Square Theatre stage," Executive Director Val Devine said.
The series includes three evenings featuring performances from seven locally grown musical acts. The performance dates are Monday, February 25; Monday, March 25; and Monday, April 22. Local Music Mondays are generously sponsored by Hawk Auto Joliet, The Irish American Society of County Will, The Joliet Downtown City Center Partnership, Ozmon Law and Chicago Street Pub.
Tickets are $20 each, or you can purchase all three performances for $45. Individual
tickets can be purchased online at www.rialtosquare.comhttp://www.rialtosquare.com, in person at the Rialto Square Theatre Box Office, or at Chicago Street Pub. To purchase the 3-show package, please visit the Rialto Square Theatre Box Office during normal business hours (M-F, 12-4:30 PM).
The 2019 Local Music Monday music series at the Rialto Square Theatre will include
the following local talents:
Local Music Monday #1 Featuring Ava Suppelsa, The Brothers Footman, & The Stone City Stragglers Monday, February 25 | 6:30 pm $20
Ava Suppelsa
At just 20 years old, Ava Suppelsa has had a career that rivals songwriters twice her age. Hailing from Evanston, Illinois, her writing captures a diverse sound between country and pop. Ava's influences draw from more than just the current country genre, fusing it with folk, pop and event hints of jazz. "I grew up in a house that put Johnny Cash and Frank Sinatra in the same playlist," she says, which she attributes to her unique sound.
Despite her young age, Ava has made a name for herself in music scenes across the country and most recently, in Nashville. First penning songs at age 12, her knack for songwriting was recognized early on. At 16 years old, she was accepted into the prestigious Interlochen Arts Academy boarding school to study in their Singer/Songwriter major. Already laser focused on a music career as a junior in high school, she moved away from home to study in their intensive program.
Her songwriting has been recognized on the national and international level, starting by being selected as a National Endowment for the Arts YoungArts Winner at just 17 years old. Out of 11,000 applicants, Ava was one of 6 selected songwriters and studied under the likes of Chris Young, Josh Groban, Livingston Taylor and more.
Since then, she's received recognition from the International Songwriting Competition, Music City SongStar Competition and more, and was chosen to study in the Johnny Mercer Songwriting Project under legendary writers Lari White, Stephen Bray and Craig Carnelia.
Ava was accepted into the #1 commercial music college in the world, Berklee College of Music, and studied as a Songwriting and Music Business double major for two years before making the move to Nashville to pursue music full time.