Rialto Square Theatre present local Music Mondays 2019
1/9/2019, 3:49 p.m.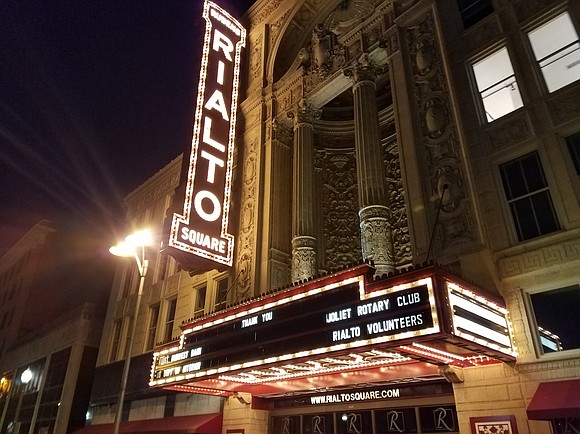 Joliet- Rialto Square Theatre is excited to announce the lineup for the Local Music Mondays Music Series, in partnership with Chicago Street Pub. This music series celebrates the unique musical talents of Joliet area musicians in the beautiful Rialto Square Theatre. "We loved partnering with Mike Trizna and Chicago Street Pub to bring local talent to the Rialto Square Theatre stage," Executive Director Val Devine said.
The series includes three evenings featuring performances from seven locally grown musical acts. The performance dates are Monday, February 25; Monday, March 25; and Monday, April 22. Local Music Mondays are generously sponsored by Hawk Auto Joliet, The Irish American Society of County Will, The Joliet Downtown City Center Partnership, Ozmon Law and Chicago Street Pub.
Tickets are $20 each, or you can purchase all three performances for $45. Individual
tickets can be purchased online at www.rialtosquare.comhttp://www.rialtosquare.com, in person at the Rialto Square Theatre Box Office, or at Chicago Street Pub. To purchase the 3-show package, please visit the Rialto Square Theatre Box Office during normal business hours (M-F, 12-4:30 PM).
The 2019 Local Music Monday music series at the Rialto Square Theatre will include
the following local talents:
Local Music Monday #1 Featuring Ava Suppelsa, The Brothers Footman, & The Stone City Stragglers Monday, February 25 | 6:30 pm $20
Ava Suppelsa
At just 20 years old, Ava Suppelsa has had a career that rivals songwriters twice her age. Hailing from Evanston, Illinois, her writing captures a diverse sound between country and pop. Ava's influences draw from more than just the current country genre, fusing it with folk, pop and event hints of jazz. "I grew up in a house that put Johnny Cash and Frank Sinatra in the same playlist," she says, which she attributes to her unique sound.
Despite her young age, Ava has made a name for herself in music scenes across the country and most recently, in Nashville. First penning songs at age 12, her knack for songwriting was recognized early on. At 16 years old, she was accepted into the prestigious Interlochen Arts Academy boarding school to study in their Singer/Songwriter major. Already laser focused on a music career as a junior in high school, she moved away from home to study in their intensive program.
Her songwriting has been recognized on the national and international level, starting by being selected as a National Endowment for the Arts YoungArts Winner at just 17 years old. Out of 11,000 applicants, Ava was one of 6 selected songwriters and studied under the likes of Chris Young, Josh Groban, Livingston Taylor and more.
Since then, she's received recognition from the International Songwriting Competition, Music City SongStar Competition and more, and was chosen to study in the Johnny Mercer Songwriting Project under legendary writers Lari White, Stephen Bray and Craig Carnelia.
Ava was accepted into the #1 commercial music college in the world, Berklee College of Music, and studied as a Songwriting and Music Business double major for two years before making the move to Nashville to pursue music full time.
Without even a year in Music City under her belt and still under the legal drinking age, she has graced the stages of legendary songwriter venues, like the Bluebird Cafe, the Listening Room Cafe and more. She has had songs cut by Austin Burke http://www.austinburkemusic.com/, Christina Taylor https://www.christinataylormusic.com/
and Jesse Labelle https://www.jesselabelle.com/ and can be found writing daily and playing writers rounds around Nashville.
Ava just had a song, which she cowrote, hit 1 million listens on Spotify.
The Brothers Footman
Music lovers who are eager to treat their ears to something fresh and unique would do well to check out a local band by the name of The Brothers Footman. The group's sound is inspired by a variety of genres including country, Motown, gospel and R&B. Listeners will enjoy their smooth vocals as the brothers harmonize over energetic rifts of acoustic guitar.
Brothers Dikembe, Gerald (G), Micah (Sauce) and Joshua (Bubby) Footman make up the core of the band, while guitar player Zach Craft and drummer Don (Tank) complete the sound. Though the group is a new endeavor, the brothers have been surrounded by music all of their lives, as both of their parents sing and play multiple instruments.
"We grew up around music and kind of just picked it up ourselves. Our father's side of the family can play and sing, and our mother is very musically talented and trained many vocal groups. One Christmas, we got instruments instead of presents, and since then we have been like, yeah, this is what we do," said Bubby.
"Back then none of us could play anything," added Dikembe. "We were just banging, so we sounded like a really bad heavy metal rock group. It was all in rhythm, so it still sounded kind of cool."
The group's musical talents have grown since childhood, and they have honed their skills in separate projects. Gerald started to play the piano and the drums, and Micah has done many productions for a wide range of varying artist. Today, the brothers are determined to break down musical barriers with a distinctive sound they like to call "Summa Music."
"We don't believe in drawing lines in music. Music is; it's just that simple. We let the songs do what they do. The idea might start with one of us and then someone puts some keys down. It takes on its own form, and we let it rock that way. So it's summa music. Some of this, some of that," said Bubby.
Though the brothers have recorded multiple songs, they have only released one to the public as of yet. Their debut single "Country Sky" has already been played on radio stations both locally and internationally.
"Yesterday we heard it was playing in the UK, and the radio DJ actually shouted out our individual names. It was pretty cool," said Gerald.
The brothers say their success is due to the fact that they are unapologetically themselves. They hope a sense of authenticity reflects in their music.
"You got to bring it for a reason. Many people try to copy what they hear on the radio. We just try to bring out what's inside our head, be ourselves, and never stop," said Bubby.
The Stone City Stragglers
The Stone City Stragglers were a six-piece band from Joliet, IL., also known as Stone City because of the limestone that was used to build the infamous prison walls and other historic buildings. Being native stragglers of Joliet, the name was fitting.
Although the band broke up several years ago, they are all prominent members of the area music community. This show will mark their second "One Time Only" reunion.
For many years, SCS carved a name for itself in the Americana/Alt. Country scene. Their 2004 release, The Last Resort, gained the attention of reviewers and fans across the U.S. and abroad. With their passionate live show, the band has recently opened for such acts as Drive-By Truckers, Jon Dee Graham, Reckless Kelly, Deana Carter, Caitlin Cary, Thad Cockrell, and followed up Julie Roberts and Clint Black's performances at the 27th Annual Chicago Country Music Festival during the Taste of Chicago in 2005.
The Stragglers are now in many different bands and Solo careers including but not limited to: The Righteous Hillbillies, Big Lagniappe, Colonel Chloroform, Jeff Givens and The Mugshot Saints, Mama Jen and The J Tones, Allison Flood and The Real Gone.
Local Music Monday #2
Featuring Nikki Giblin, Growler, & The Steepwater Band Monday, March 25 | 6:30 pm $20
Nikki Giblin
Nikki is a long time local musician, playing most of the local festivals. She is a favorite in many of the music venues in the area, and was recently the first place $10,000 winner in Bourbon Street's "The One". A very prestigious Chicago Area Vocalist competition. Nikki has many irons in the fire. You can catch her at Elder Brewing, Chicago Street Pub and many other amazing area places.
Growler
Formed in early 2015 with a lineup of both esteemed veteran pickers and hotshot newcomers, Growler is bringing a welcome vitality to the growing Chicago bluegrass
scene. The band comprises current and former members of regional mainstays like Jim
Peterik & Storm Chaser, The Leadfoot Band, DOG 1, and Sunnyside Up and its members
bring to the table over a decade of collective experience playing and recording
mountain music the old-fashioned way. As precise and high lonesome as these boys
are, however, traditional bluegrass is not a final destination for a group like Growler. With influences that span from pulsing Chicago blues to gritty southern rock, from elegant gypsy jazz to old school gospel and soul, and more, the band uses their bluegrass prowess as a jumping-off point for finding a sound that is theirs alone.
In addition, Growler has wasted no time getting this sound in front of an audience. Having cultivated a sizable repertoire of lovingly re-imagined standards and exploratory originals, the group is already packing houses and wowing crowds at clubs and festivals throughout the Midwest. They have shared the stage with national touring acts such as Elephant Revival, Head For The Hills, Hot Buttered Rum, Front Country, Jon Stickley Trio, The Wooks, Cornmeal, Trout Steak Revival, The Lil' Smokies and in 2018 are only continuing to pick up speed on the regional scene. You wanted bluegrass in the City of Big Shoulders? Look no further--Growler is Chicago's answer to a young generation of talented pickers seeking a new identity, and with thick four-part harmony, lush instrumental arrangements, and a deep, impeccable groove, how can you deny them?
The Steepwater Band
Formed in Chicago back in 1998, The Steepwater Band's signature sound is a nod to
early British blues, combined with a modern, raw and gutsy musical approach. Founding members Massey, Bowers and Winters have a synergy that comes from years of playing together. Then in early 2012, Saylors, from Indianapolis, IN, who brought an added depth to the TSB LIVE sound, joined the long-time trio. Although the band got their start as devotees of delta blues, they have since been expanding on their influences, absorbing everything from Psychedelia to Americana, from Jazz to 50's Rock n' Roll Music.
The Steepwater Band has maintained a grueling schedule throughout the last 18 years, averaging about 140 shows per year. They have toured and shared the stage with acts such as Gov't Mule, Buddy Guy, Wilco, Taj Mahal, Marc Ford, ZZ Top, T-Model Ford, North Mississippi All Stars, Leon Russell, Drive-By Truckers, Robert Randolph & the Family Band, Cheap Trick, Bad Company and Heart. In 2005, the band made its European debut, performing at the Azkena Rock Festival in Vitoria-Gasteiz, Spain. In the following years, the band has returned to the United Kingdom and Europe for multiple club and festival tours, increasing their loyal overseas fan-base.
Local Music Monday #3
Featuring The Tim Placher All-Stars
Monday, April 22 | 6:30 pm
$20
Over the last several years, Tim Placher, longtime Joliet musician and teacher, has assembled a cast of talented Joliet-area singers, songwriters and players—all artistically successful in their own right— and built a local musician "All Star" group that periodically stages popular "One Night Only" music theme shows. What began with Tim and singing partner Robyn Castle has grown to include 20 musicians representing some of the area's most prominent bands and performers.
"Some people have called me a local 'David Foster' for being able to assemble and coordinate so many musicians who all have their own creative endeavors going," said Placher. "But I think the main thing is that I'm pretty good at picking the right songs for the right performers, and giving these talented musicians an opportunity to step out of their regular music routines for a night of fun and camaraderie trying their hand at something new and different."
That fun and camaraderie is infectious to local music fans who have packed Chicago Street Pub to see the shows. Now, Tim and crew will bring the shows' musical highlights to the Rialto for a memorable one-night stand. Singers and musicians include John Condron, Allison Flood, Brian Motyll, Nikki Giblin, JRoss Green, Robyn Castle, Josh Nestor, Stacy Sienko, Gavin Coyle, Chloe Briese, Kevin McCammon, Alex Hoffer, Tom Maslowski, Ellis Wright, Patrick Wright, Will Cooper, David Francis, Ted Slowik, Dr. Mark Christensen, and a few special surprises! Plan to join the party on April 22 as this "supergroup" of local musicians and singers performs many favorite songs from some truly iconic artists!
All seats are $20 or all three performances for $45. Individual performance tickets
can be purchased online at www.RialtoSquare.comhttp://www.RialtoSquare.com, in
person at the Rialto Square Theatre Box Office (M-F, 12-4:30 PM), or at Chicago
Street Pub. For more Information about the entire series, please visit
www.RialtoSquare.com, or call the Rialto Square Theatre Box Office at 815.726.6600.
The box office is located at 102 N. Chicago Street in Joliet. More info at:
www.RialtoSquare.com