2019 Toyota Camry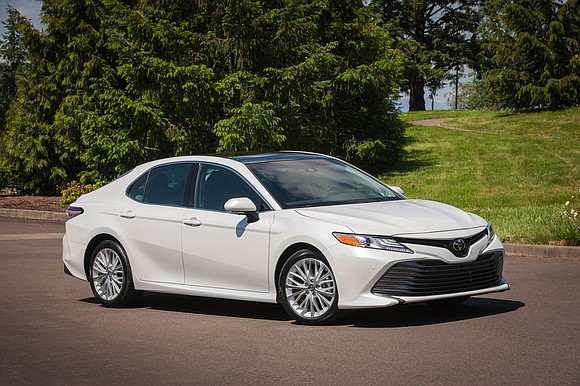 It was just last spring near Portland, Oregon, when Toyota launched the all new Toyota Camry. If you've ever been in that area of the country, it is loaded with trees and reportedly has more aggregate surfaced highways than anywhere else in the country.
But what it didn't have when I was there, was pothole, lots of traffic, urban expressways and noise. Well, in these parts all of that is prevalent and drivers must deal with it on a daily basis.
I had the Toyota Camry XLE. It was powered by a 3.5-liter V6 that made 301 horsepower and 267 pound-feet of torque. It was mated to an eight-speed automatic transmission. This combination got 22 mpg in the city, 33 mpg on the highway and 26 mpg combined.
The Camry had plenty of spunk. It could accelerate with authority. There were three drive modes: Eco, Normal and Sport. I had it in normal for the week and it handled the roads with no problem. However, there was not much to handle.
City driving around here is not that challenging unless there is snow. There wasn't any, or traffic but during the holidays there wasn't that much of that either. It wasn't even that cold, mostly in the high 30s, though it did drop down to the low 20s overnight. It was pretty mundane but that is the point.
The Camry handles everyday driving uneventful. And that's what has made it the most popular sedan in the country for 15 years. I'm sure it is the same in the canyons of New York or the canyons of southern California.
Designers wanted a distinctive look for the new edition. Camry styling was aggressive and edgy. Gone is the rounded look intended not to offend anybody. The test car was sleeker and actually looked smaller. The grille, hood, and emblem blended into a lower stance and flowed into the A-pillar. The car did look smaller, sportier.
But once I got into it, it felt like a roomy midsize sedan. The back seat was pretty spacious. But the head room was pretty close. That may be attributed to the panoramic roof.
The front seats were comfortable and they were heated. The infotainment screen seemed flush with its template. That's how good the fit & finish was. The car had Bluetooth, voice controls, satellite radio, Entune which is an app connection suite, a navigation system, a popup trunk release, push button start and push button lock and unlock.
There were two large oval analogue instruments the odometer on the left and the speedometer on the right and a TFT screen between. To be blunt there was just too much information in the TFT, the lettering was too small and there were too many steps to go through to access commands.
Luckily it was a redundant system. Commands for the pre collision system with pedestrian detection, adaptive cruise control, lane departure alert, as well as rear cross traffic alert were either on the steering wheel or on the instrument panel.
Voice controls were pretty good. Though I only made one call. The system did what I asked without a hitch. But I did find the audio system kind of bumpy. Satellite radio subscription was not working so I streamed Pandora off my phone. It worked and then it didn't and then it did. I don't know if it would have been better with a chord.
There was ambient blue lighting at night and that was kind of soothing. It was cold here. The Camry warmed up quickly, climate controls were accurate and the car was easy to drive.
The redesigned Toyota Camry is still atop the heap of midsize family sedans. At $37,824, it is a solid car and a benchmark in the class.
Frank S. Washington is editor of AboutThatCar.com