Understanding ways to rid your home of harmful toxins
1/22/2019, 6:38 p.m.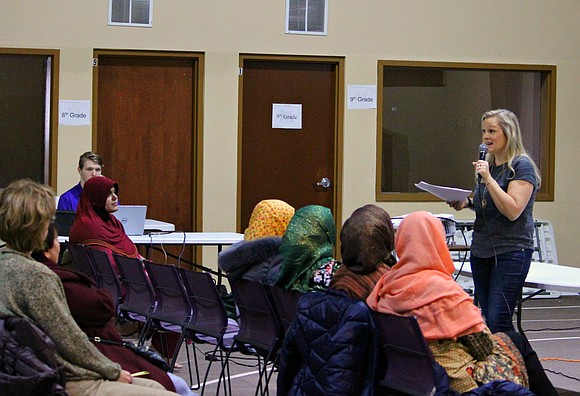 The Muslim Association of Bolingbrook hosted "Creating a Safe Home", a class on easy and affordable ways to kick harmful chemicals out of your home, organized by the MAB Sisterhood in association with the Masjid Al-Jumu'ah's Green Squad. This ladies only, interfaith event was taught by Sarah Harnisch, bestselling author, certified aromatherapist, mother of five and passionate oiler from New York.

Harnisch shared from her book Fearless: Confidence with Essential Oils in 2 Hours, which discusses simple swaps you can make in your home to remove harmful chemicals. "We are really working on methods to lower the toxins and chemicals we use in the masjid. Our children come here and we want them exposed to as little chemicals as possible." Jessica Yasin, a member of the MAB Green Squad shared prior to the event.
Those in attendance learned about the toxic chemicals found not only in everyday household cleaning products but also those that are in personal care products as well. "The number one household toxin in the home is what you are using to clean your laundry," Harnisch shared with the group. "From the fragrances being used to make the products smell good, as well as what's in those products to clean your items, but also once they come out of the dryer they are hung in your closets and placed in your drawers to off-gas in the same space you are sleeping in. You are breathing all of those toxins in while you sleep. Then, you wake up and put those items on and those toxins are being absorbed into your body through your skin." Participants learned easy ways to start making changes in their homes now to eliminate toxins.
Everyday products that we use to clean not only our homes but ourselves have the ability to overload various systems of our body with what is in them. Harnisch encouraged those at the class to take the time to research the ingredients of what they have in their homes in order to make better and healthier decisions for themselves and their families. Karen Stahlecker of Naperville, who found out about the event through Facebook, shared the following after the event, "I had no clue that there were so many toxins in our homes. We think of cleaning products in a positive way since they are helping us combat germs in our homes but don't realize that they are actually harming us and not necessarily completely removing the germs either."
MAB Sisterhood is organizing another class for Harnisch to teach at the end of February. These, as well as all Masjid Al-Jumu'ah ladies only interfaith events, are open to the public. More information can be found on their website at bolingbrookmasjid.com.
Photo - Sarah Harnisch speaks to the attendees at the Muslim Association of Bolingbrook's "Creating a Safe Home" event.